Storing goods for the inhabitants to prevent COVID-19
Updated : 3/22/2020 1:00:00 PM (GMT+0700)
Responding to SARS-CoV-2, the Industry and Trade sector is cooperating with provincial enterprises and localities to increase goods reserves and implement solutions to handle, inspect and control the market as well as preventing activities which may affect consumer rights such as commercial frauds, hoarding goods...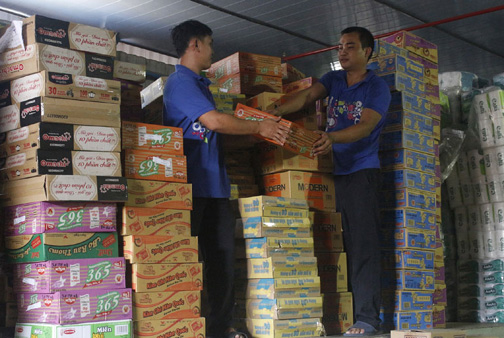 Staff of Tuy Hoa Co.opmart arranging goods
In the previous days, people rushed to buy medical supplies, equipment and essential food for storage after hearing about SARS-CoV-2 patients in our country; but now, the consumption of goods of people has stabilized and stores no longer lack goods.
Mr Tran Van Tan, Director of the Department of Industry and Trade, lets known,: Implementing direction of the PPC on strengthening measures to ensure the supply and demand of markets and essential goods to serve consumers, the department has implemented specific solutions to mobilize maximum and effectively goods sources to serve people during the time of epidemic prevention. Every day, the department directs specialized divisions to monitor and grasp people's need of using goods, especially essential goods; making reserve and distribution plan to response to the situation of epidemic prevention. The department has directed and mobilized enterprises and establishments in the locality to step up production and business; strengthening goods reserves to serve the consumption needs of people in the province.
Mr Dang Truong Giang, Owner of Gmart supermarket (Song Hinh district), lets known: At request of the Industry and Trade Department, in recent days, the supermarket doubled the amount of inventory to reserve in case people's needs increase significantly. The demand for essential food and utensils of people in the district is still stable, so the supermarket ensures sufficient supply for them and has a plan to prepare goods in case the demand suddenly increases. According to Mrs. Ho Thi Bich Hai, representative of Hai Lam Trading Co., Ltd. (Tuy Hoa city), the company supplies main products of instant noodles, monosodium glutamate, washing powder, cooking oil... Currently, demand of people for these products is not much; however, in order to distribute enough goods to agents, the company also take initiative in existing capital and import more than 10-20% goods.
According to Mr. Tran Van Tan, the Industry and Trade sector has collaborated with functional agencies and localities to inform people and enterprises about situation and measures to prevent the epidemic. The department has instructed the Inspectorate Division to coordinate with the provincial Market Management Department and the provincial 389 Steering Committee to manage and inspect the listed prices and selling prices, focusing on examining activities of taking advantage of goods scarcity on the market to speculate goods or take advantage of epidemics to raise unreasonable prices, especially medical masks, supplies and equipment in service of epidemic prevention.
Mr Vo Dinh Tien, Chairman of Dong Hoa district People's Committee, lets known: During the recent outbreaks, there has been no sudden increase in people's demand for essential goods and utensils in the area. The locality has instructed specialized divisions to continue monitoring and grasping people's demand for goods and the supply at markets, shop... Thereby, coordinating with functional departments to monitor and together make plan of supplying and controlling goods..., in order not to be out of stock when the epidemic situation is complicated.
Source: Phu Yen Newspaper
Translated by KHUONG THAO