Converting production to adapt to climate change
Updated : 3/25/2020 2:59:05 PM (GMT+0700)
Over the past time, the climate change has considerably affected agricultural production and people's lives. Facing this situation, the province has directed localities to implement numerous solutions.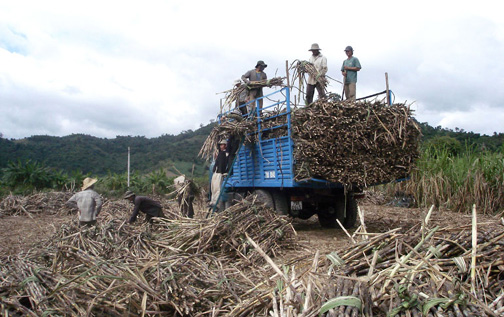 Phu Yen farmers harvesting sugarcane
According to the Department of Agriculture and Rural Development (DARD), in recent years, due to climate change with the typical weather pattern of high temperature, drought and saltwater intrusion have occurred and become increasingly serious in Phu Yen. This is the leading cause to the loss of production land, making it difficult for crops and livestock and causing diseases of plants and animals.
Mr Nguyen Trong Tung, Director of the DARD, lets known: every year, hundreds of hectares of rice must be converted to other crops due to insufficient water for sowing and thousands of hectares of sowed rice have severely affected yield due to lack of irrigation water. Particularly in 2019, due to prolonged hot weather, drought occurred in the province, more than 10,200 households lack daily water, more than 1,300ha of summer-autumn rice crop is destroyed and over 5,000ha of summer-autumn rice lacks irrigation water, so its yield is affected and many crop areas die.
Facing increasingly severe climate change, every year, the PPC also build action plans to cope with this situation. In particular, the most important content is policy to support people in changing production to ensure livelihoods.
Mr Nguyen Hoa in Ea Ly commune (Song Hinh district), lets known: In recent years, the erratic weather, long hot weather in dry season and floods in rainy season, make agricultural production face numerous difficulties. In order to proactively cope with the current weather, my family has transformed old variety of sugarcane with low productivity into the new one with high productivity and quality such as K95-156, K95-84, KK3...
With an average sugarcane yield of 70-90 tons per ha, my family earns hundreds of million dongs per year in 5ha of sugarcane. As for some area affected by drought, my family turns to grow fruit trees such as avocado, durian, etc., which also brings high income.
Mr Pham Trung Chanh, Vice Chairman of Dong Xuan district People's Committee, lets known: In recent years, some areas of rice have been inefficient because of frequent lack of irrigation water in the dry season, farmers have switched to some other plants with higher efficiency such as peanuts, hybrid corn, vegetables and other legumes. This conversion has brought about practical economic efficiency, stable income for people and in line with the district's orientation.
Mr Nguyen Trong Tung lets known: In recent years, there have been many natural disasters in the province due to climate change. These phenomena tend to increase in intensity, frequency and unpredictable happenings, causing economic losses and affecting people's lives. The province has developed and implemented an action plan to respond this situation. Accordingly, delta and mountainous areas convert from wet rice to vegetables and legumes into the local water shortage area; converting from cassava and sugarcane with low yield areas into fruit trees or forestry trees ...
In addition to converting pure agricultural crops, the province has oriented to develop agricultural production applied science and technology. In addition, in recent years, the Central government and localities have set aside budgets to implement policies and projects to support production development for people. All models are aimed at building high quality products which are suitable for increasingly severe weather and can be replicated.
Source: Phu Yen Newspaper
Translated by KHUONG THAO