Urgent and hectic Tax settlement in COVID-19 situation
Updated : 3/26/2020 2:05:00 PM (GMT+0700)
Only a few more days, all businesses and units must submit tax finalization declaration in 2019. Currently, many businesses have actively implemented the audit and tax declaration process with the goal of submitting the declaration early, ensuring to declare correctly and fully as prescribed.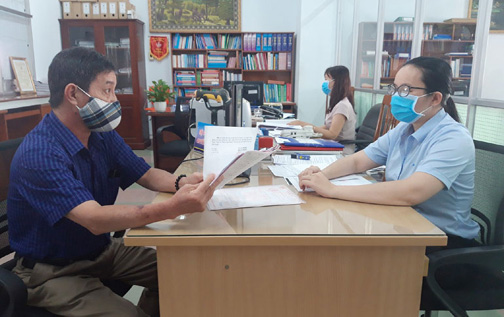 Support for finalization of personal income tax at Phu Yen Department of Taxation
The deadline for submitting the 2019 tax finalization return is March 30th, 2020. Therefore, these days, urging specialized divisions to focus on tax finalization declaration is of interest to many business leaders.
To prepare the tax finalization for 2019, Song Ba Ha Hydroelectricity Joint Stock Company has regularly checked the reasonableness, validity and legality of all expense items; reviewed and timely adjusted to avoid errors in the course of production and business activities. In addition, the company also timely updated new regulations on the accounting regime, tax laws and regulations of specialized laws related to the operation of the enterprise to avoid errors in the accounting process.
"Every year, Song Ba Ha Hydroelectricity JSC also hires prestigious independent auditors to audit the annual financial statements, contributing to publicity and transparency of economic and financial information; detect, handle and prevent errors in business activities," said Mr. Tran Ly, General Director of the business.
Not only businesses, administrative units, individuals subject to self-tax settlement also rushed to complete personal income settlement procedures during these days. Ms. Tran Thi Bich Hoang, Deputy Director of Saigon - Phu Yen Trading and Service Limited Company let known: Previously, I worked in Ninh Thuan province, then transferred to Phu Yen. In 2019, because I have income from two places, I now have to do the tax finalization myself. I was not sure what the procedure was, so I prepared all the paperwork and procedures, then went to Tuy Hoa City Tax Department to ask the tax officer to guide the tax finalization.
The whole province now has had more than 3,000-business operation, hundreds of administrative and non-business units and many individuals subject to self-finalization. All must file a tax finalization return before March 30th.
According to Mr. Nguyen Ngoc Duy, Deputy Director of Phu Yen Department of Taxation, this year, to prevent COVID-19, the Department of Taxation did not organize training meetings but focused on direct support at tax offices. In addition, the tax industry focuses on supporting tax settlement through online forms such as answering by phone, via website http://phuyen.gdt.gov.vn, teamvier software...
In addition, all contents of policies and guidelines of individuals, organizations and enterprises for tax finalization are summarized, edited briefly to easily understand and provide to taxpayers via email. "With respect to personal income tax, this year, there is a new point that taxpayers must declare electronically. The General Department of Taxation has upgraded the electronic tax service system (eTax) to help individuals and organizations that do not use digital signatures still be able to do this," Mr. Nguyen Ngoc Duy said.
In parallel with creating favorable conditions for taxpayers, the tax authorities have also stepped up the urge to declare and strictly sanction acts of delayed submission of tax declaration dossiers. In order to avoid being fined, businesses and units need to make and submit early, if detected errors, they also promptly amend and return them on time.
Source: Phu Yen Newspaper
Translated by TRINH THUY