Export enterprises facing difficulties and challenges
Updated : 11/15/2022 7:40:00 AM (GMT+0700)
In the recent months, export orders have fallen sharply, businesses in the province have had to shrink, moderate production, or even suspend production. Finding solutions to cope with difficulties in this period is a matter of concern for businesses today.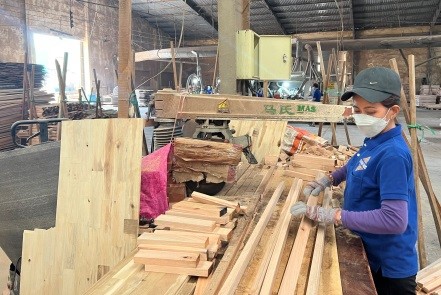 Producing plywood at Thanh Phuc JSC (Northeast Song Cau Industrial Park)
Influenced by the unstable world current affairs, high inflation, a decrease in consumption in foreign markets, production and export activities have stagnated. Like domestic exporters, Phu Yen's exporters of a number of products such as seafood, cashew, garment, and finished wood products have been facing many difficulties and challenges.
Specializing in producing seafood products for export to the US market, but from July 2022 up to now, the production activities of Hong Ngoc Seafood Limited Company (Hoa Hiep 1 Industrial Park, Dong Hoa town) have encountered many difficulties. Mr Nguyen Manh Cuong, the company's factory manager, said: "Inflation is high in the US, the consumption market is slow, the number of orders has decreased by 60% to 70% compared to the beginning of the year. The machine only produces in moderation to keep customers. Except for the time when production stops due to no orders, the rest of the time, we have to make some by-products to meet small orders, creating jobs for 78 employees."
According to Mr. Vo Thien Phuc, Director of Golden Shrimp Seafood JSC (An Phu Industrial Park, Tuy Hoa city), the average monthly export volume to the China market is about 150 tons of finished shrimp. In early 2022, China closed its doors to imports, then opened it from the beginning of June to the end of August, then continued to close until now, which greatly affected the company's export activities. "When export activities are stable, the company has more than 300 workers with an income of from VND 9 million to VND 11 million/person/month, but now there are only about 80 employees and monthly income is only VND 5 million to VND 6 million/person/month. The remaining workers have quit their jobs because they have no jobs and low incomes", Mr Phuc said.
In order to maintain operations and retain employees, businesses try to manage and find suitable ways to adapt to the difficulties. According to Mr. Vo Thien Phuc, because it cannot export directly, Golden Shrimp Seafood Joint Stock Company has stopped producing shrimp and switched to processing some other seafood for businesses in the area so that workers can have jobs.
Mr Tran Ton Chinh added: the costs of input and raw materials increased by 10% to 15%, but the company only increased product prices by 5% to retain customers even with small orders. The immediate solution is when the order goes, we will import raw materials, and produce. The company is trying to maintain stable jobs for 100 workers with an income of VND 5 million to VND 8 million/person/month and ensure the regimes and policies as prescribed.
Trying to hold out with the hope that the market will prosper next year, businesses also want functional industries and local authorities to have preferential policies such as tax, bank interest, etc. to support businesses. Ms Nguyen Vu To Quyen, Deputy Head of the Management Board of Phu Yen Economic Zone said: Through working with businesses, the management board has grasped information and situation of production and export activities of enterprises in Vietnam at the current time. In addition to sharing the difficulties that businesses are facing, we also encourage and hope that businesses have a response plan to overcome soon, stabilize production, create jobs and income for workers. Businesses can reduce production costs, find more customers, expand new markets, etc.
According to Mr Nguyen Thanh Tuan, Director of the Department of Industry and Trade, the PPC has decided to establish an interdisciplinary working group to support and grasp the situation of production and export activities of enterprises in the province. The working group will capture and summarize the production and export situation of enterprises; review the province's export turnover targets; closely coordinate in implementing measures to support businesses. The team is also assigning tasks to members; coordinate activities, implement measures to support businesses.
Source: Phu Yen Newspaper
Translated by TRINH THUY