Solutions to develop lobster farming sustainably
Updated : 11/21/2022 2:26:49 PM (GMT+0700)
Phu Yen is one of the provinces with the leading lobster farming in the country. Phu Yen sea area has many protruding mountain ranges forming large straits, lagoons and bays forming a specific, diverse, suitable and favorable ecological zone for the development of marine aquaculture, especially lobster farming for export. Besides advantages, there are still many reasons why lobster farming has not developed stably.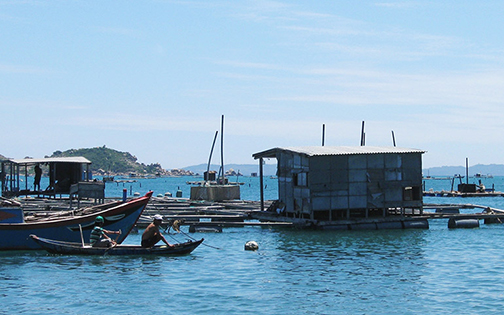 Lobster farmers in Song Cau town
Cage lobster farming in our country began to develop at the end of 1990. This farming is concentrated in the South Central region such as Song Cau (Phu Yen), Van Ninh and Ninh Hoa (Khanh Hoa)..., not only solving jobs for tens of thousands of coastal workers, but also brings in nearly 4,000 billion VND per year.
Phu Yen is one of the provinces with the leading lobster farming in the country. Currently, the province has about 50,628 cages and rafts for commercial farming and 16,092 cages for nursery shrimp. In which, most concentrated in Song Cau town, followed by Tuy An district and Vung Ro (Dong Hoa town). Lobster farming creates jobs for tens of thousands of coastal workers and annually brings huge income to farmers in Phu Yen province, with an average output of 1,000 tons, worth from 660-995 billion VND/year.
It can be said that lobster farming in recent years has significantly contributed to the general socio-economic development of the province, significantly changing the face of rural areas, creating jobs, raising incomes and improving people's lives. However, besides that, there are still many reasons that make lobster farming unstable, that is, lobster farming technology has not been studied comprehensively and requires high-tech farming models for farmers to learn, apply and replicate.
In order to sustainably develop lobster farming in Phu Yen, in the coming time, Phu Yen can apply two farming technologies such as: Onshore farming technology and Norwegian-style HDPE cage farming technology.
Regarding onshore farming technology, at present, the Research Institute of Aquaculture III has carried out the topic: Research on building a process for raising cotton lobster (Panulirus ornatus) in a tank system with a yield of 5kg/m2. Technology has been successfully transferred to Dac Loc Seafood Co., Ltd. Depending on the scale, although the investment in onshore farming technology is quite high (minimum 1 billion VND for a farm with a capacity of 1 ton of commercial shrimp/crop of 8-14 months), it will almost overcome the risk factors, especially feeding and disease control. Therefore, when applying this farming technology, the investment in wastewater treatment system to ensure that the environment reaches the permissible threshold before being discharged outside should also be considered.
In Phu Yen, it is necessary to study open areas (offshore) to develop lobster farming; the application of Norwegian-style cage farming technology (domestic production) will completely overcome the damage caused by natural disasters as well as solve the current inshore farming problem. The cages are produced domestically with low cost, long life, and can withstand big waves (typhoon level 12-13) thanks to the immersion system at a depth of 15m. HDPE cages will be located in the planned areas with a flow velocity of 20-100 cm/s. Water depth from 10-15m. The density of cages is 7-15 cages/ha, the distance among the clusters of farming households is on average 100m. The advantages of HDPE cages are high density, high productivity, long service life (over 10 years), high flexibility, so it is easy to shape, does not break when encountering big storms, rough or bumpy terrain, lightweight cage moves easily.
Currently, Phu Yen has the most developed lobster farming in the country thanks to very favorable natural conditions. However, in the past time, lobster farming has developed spontaneously, small, fragmented, lacking the connection among scientists, entrepreneurs, managers and farmers, so it often leads to the present "if you get a good harvest, you lose value, if you get a good price, you lose your harvest". Therefore, in order for lobster farming in Phu Yen to develop sustainably, it is necessary to quickly develop a project to develop lobster products in an integrated and synchronous manner according to the linkage of the production chain, including: seed, feed), lobster rearing, commercial shrimp farming; output (traders), consumers, exporters.
The goal of the project is to develop content to have a modern and sustainable model of lobster production in Phu Yen province for other localities to learn and replicate...
Source: Phu Yen Newspaper
Translated by HAI LOAN