Expectation of "trivet position" within cooperatives
Updated : 11/23/2022 11:38:50 AM (GMT+0700)
The connection among farmers, scientists and enterprises is a sustainable guarantee for the linking chain of agricultural products from production, processing to consumption. It is more effective in the cooperative model, which is proven by the actual activities of numerous cooperatives in the province.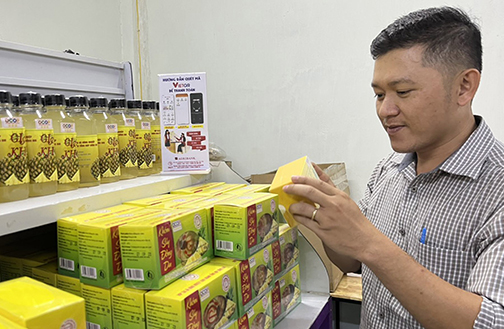 Numerous products of Dong Din Cooperative originated from scientific research
In 2021, master Huynh Huy Viet, Deputy Head of the General Administration Division (under the Department of Natural Resources and Environment) coordinated with Dong Din General Agricultural and Business Cooperative in Phu Hoa district to deploy the research of improving quality of bio-cleansing water recycled from plant waste. The result was 2 Dong Din products of biological dishwashing liquid and biological floor cleaner. Master Huynh Huy Viet lets known: I use available materials at the cooperative, which are peel and pineapple waste, to brew into ordinary dishwashing liquid. Then, adding surfactants and sodium salts to stabilize the biochemical environment and create detergents with both foam and natural fragrance. Ordinary dishwashing liquid is difficult to become a marketable commodity because of its low commerciality (odor, low foam and short usage time). Dishwashing liquid made in cooperatives overcomes limitations and becomes a product to meet the needs of consumers.
From technology transfer, Dong Din Cooperative has put it into modern production lines and invested in designs, packaging and barcodes in accordance with quality standards. Currently, these two products achieve 3-star OCOP at the provincial level and are available in supermarkets for widespread consumption. Mr Nguyen Hoang Chuong, Director of Dong Din Cooperative, lets known: Without the connection with researchers, the cooperative only has 4 products from pineapple trees, which are pineapple fruit, pineapple cake, pineapple juice and dried pineapple. Along with that is waste of by-products after processing such as residues, bark and trunks of pineapple, which is more intractable as the scale of production and processing expands. When linking and applying science to production, the cooperative has more 2 products, helping to diversify traditional agricultural products and solve a large amount of waste in a useful way. Besides, thanks to mastering the waste recycling process, the cooperative is chosen by the People's Committee of Phu Hoa district as a unit to deploy a pilot model of concentrated domestic waste composting in residential areas.
Currently, the linkage model at cooperatives has just attracted farmers and enterprises. Particularly, the cooperative is an intermediary to organize production, processing and associate enterprises to consume agricultural products for members. The task of accessing to scientific topics, linking researchers or actively implement scientific research in cooperatives is very limited. According to Mrs Lam Vu My Hanh, Deputy Director of the Department of Science and Technology, the unit has not recorded any cooperatives in the province that have scientific research topics or participate in research coordination or order experts to research on a particular agricultural product. Cooperatives have just begun to approach these activities through registration for product intellectual property protection and two cooperatives express their desire to cooperate to learn from experience. We encourage individuals, units and cooperatives to order scientific topics from research units.
Mr Nguyen Duc Thang, Director of Rural Development Sub-Department (under the Department of Agriculture and Rural Development), lets known: In the coming period, policies to support collective economic development include science and technology policies. Specifically, cooperatives receive financial support from the State when they want to consult on scientific and technological management; borrowing medium and long-term loans from the Science and Technology Development Fund from the national level to ministries, sectors and localities to implement the projects of applying and improving science level as well as innovation projects.
Source: Phu Yen Newspaper
Translated by KHUONG THAO