Urban upgrading - more work to be done
Updated : 11/28/2022 10:44:47 AM (GMT+0700)
Phu Yen has set a target that by 2025, Tuy Hoa will be transformed from a grade II urban area to a grade I urban area, Song Cau town to a grade II urban area and Tuy An district to become a town. Currently, these urban areas still have many criteria and targets that have not been met. Localities are trying to complete soon.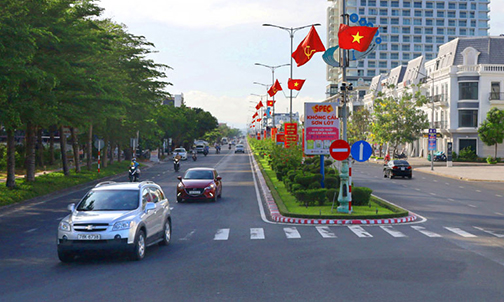 Tuy Hoa city is being invested and built, towards a grade I urban area by 2025
In addition to Song Cau town, there are 3 unsatisfied standards, in Tuy An district and Tuy Hoa city, the number of unsatisfied standards accounts for a high proportion. Specifically, Tuy An district still has 17 urban standards of grade IV, Tuy Hoa city has 15 urban standards of grade I that have not been met. These standards are calculated according to the Resolution 1210/2016/UBTVQH13 dated May 25, 2016 of the National Assembly Standing Committee on urban classification (referred to as the Resolution 1210). From 2023, when the standards will be raised according to the Resolution 26/2022/UBTVQH15 dated September 21, 2022 on amending and supplementing a number of articles of the Resolution 1210 (referred to as the Resolution 26 for short), will take effect. From January 1, 2023, the province's urban areas will face even more difficulties. Typically, Tuy Hoa city only achieved 49/63 standards according to the Resolution 26.
Assoc Prof. Dr. Luu Duc Hai, Vice Chairman of the Vietnam Association of Urban Planning and Development - a consulting unit for the Urban Development Program of Tuy Hoa City, informed: Assessment of location standards and urban characteristics according to the criteria for urban areas of grade I, Tuy Hoa city achieved the average score. Among the 14 standards that have not been met, there are a number of low standards, including population density, urban landscape architecture, funeral homes... The difficulty of Tuy Hoa City today is that although urban infrastructure is interested in investment, but the speed of infrastructure development is still slow due to lack of capital, construction progress is not up to expectations. Social infrastructure is not commensurate with the size of a large urban area with the number of small-scale cultural and sports facilities and public works such as theatres, cinemas, and new cultural sports areas is still limited. Capital for investment in construction of social infrastructure (cultural, medical, and sports facilities) and urban technical infrastructure (transport system, percentage of people using clean water), Tuy Hoa city has not been proactive, but largely depends on the projects of departments and agencies.
Tuy Hoa city has just put into operation the city crematorium, and at the same time completed the process for upgrading to wards for 3 communes: Binh Ngoc, Binh Kien, and An Phu. Along with that, the Smart City Operation Center comes into operation, which is an important plus point for the group of technical infrastructure standards.
Mr Cao Dinh Huy, Chairman of Tuy Hoa city People's Committee shared: The city has established 6 sub-boards. Each sub-board is assigned to be in charge of each specific criterion. Quarterly, the sub-boards send progress reports to the city People's Committee to make adjustments in line with reality. An advantage of Tuy Hoa city is that the urban upgrading process is included in the Prime Minister's Decision 241 on approving the national urban upgrading plan for the 2021-2030 period. From here, it helps the locality to submit the application for approval. Tuy Hoa city takes 2023 as the year to standardize the scope of Tuy Hoa urban development according to the Resolution 09 of the Provincial Party Committee's Standing Board on leading the construction and upgrading of Tuy Hoa city to meet the criteria of a grade I city directly under the province by the end of the year. In 2025, the Action Plan 04 of the Provincial People's Committee and the proposal to recognize Tuy Hoa city and its surrounding areas as meeting the criteria of a grade I urban area under the province have just been approved by the Provincial People's Committee. In 2024, complete the application for approval to a grade I city with a score of over 85 points.
Tuy An district has two major difficulties, which is traffic density, with a road surface of 7.5m wide, which requires about 1,500 billion VND to invest 300km; traffic hubs, crematoriums, and urban wastewater treatment facilities depend on the province's general projects. According to Mr Huynh Van Khoa, Chairman of Tuy An district People's Committee, the locality has completed the construction master plan of Chi Thanh urban area and its vicinity until 2035 in the direction of building Tuy An into a tourism - service - commerce urban area. The district also spends over 1,246 billion VND to invest in projects, planning projects and is organizing the selection of consultants to set up an urban development program. The district People's Committee has issued the Plan 131/KH-UBND dated January 19, 2021 on auction of land use rights for the period of 2021-2025, in which the target of revenue collection from land use auction is about 1,525 billion. copper. This is the main source of income for investment in urban infrastructure construction.
Source: Phu Yen Newspaper
Translated by HAI LOAN