The era of renewable energy sources
Updated : 1/24/2023 2:05:00 PM (GMT+0700)
In the context of rising fossil fuel prices and increasing scarcity, the role of renewable energy becomes even more important. Currently, renewable energy sources have been gradually replacing traditional energy, contributing to ensuring national energy security, protecting the environment, and building a greener earth.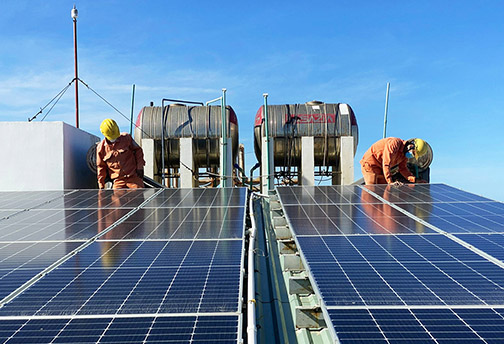 Tuy Hoa Electricity Workers assisting in checking rooftop solar power systems at households
Green energy
Energy is the pulse of life. Over the past decades, when fossil fuel sources of gas, petroleum, oil, etc. are increasingly scarce, the world has begun to change, human has been looking for new, abundant and greener energy sources. Not out of this trend, Vietnam in general and Phu Yen in particular also have many factories and projects invested to exploit the gift from mother nature, to produce clean and sustainable energy sources.
One of the renewable energy sources that has been effectively exploited by Phu Yen province for decades is hydropower. Currently, there have been 6 hydropower plants in operation in the province. On average, each year, all six of these hydropower plants generate 1.4 billion kWh, connecting to the national electricity grid, contributing to ensuring national energy security.
Born later, but there is room for strong development, that is solar power. Energy is generated by sunlight through panels. With a climate that is almost sunny all year round, in the recent years, Phu Yen province has become a fertile land for solar power investors. So far, the whole province has had 6 solar power projects that have been put into operation with a total capacity of more than 505MW. Each year, from the abundant energy of sunlight, these plants have produced and connected to the national grid about 930 million kWh.
Mr Ngo Minh Tuan, Vice Chairman of Phu Yen Energy Association said: The most special thing here is that most of the renewable energy sources are born from materials available in nature, which are extremely abundant. Through research data of scientists, when renewable energy sources generate 1 billion kWh of electricity, they can provide energy equivalent to 160,000 tons of oil, help reduce emissions of about 500,000 tons of CO2, or plant more about 11 million trees. With the great values that renewable energy brings to our planet, it is inevitable that renewable energy will completely replace fossil energy in the future.
Wide open space
About the past two decades, the world has undergone tremendous changes from the way how to produce power to the way how to consume energy, all is towards the goal of being friendly, environmentally friendly and cost-effective. Many preferential policies from the Government have been issued, people's awareness of climate change is gradually raised, etc., which has contributed to promoting the development of green energy technology to increase exponentially.
Mr Vo Xuan Nguyen, Head of Technical Energy Department (Department of Industry and Trade) let known: According to the master plan on renewable energy development in the Central region to 2020 with a vision to 2030 of the Ministry of Industry and Trade, the potential of solar energy of Phu Yen province is 5kWh/m2; average wind speed is from 5m/s to 7m/s, wind energy potential at 65m height is 475.33kWh/m2. With such climate conditions, Phu Yen is one of the provinces with great potential in developing wind power and solar power.
According to Ms Nittinunt Sornthong, Senior Manager of Commercial Division of Super Energy Group (in Thailand), the group has invested in 14 wind and solar power projects with a total capacity of 1,300MW in Vietnam. Particularly in Phu Yen province, Super Energy Group is operating Thinh Long solar power plant in Son Thanh Dong commune (Tay Hoa district) with a capacity of 50MW. At the same time, the group is also implementing the HBRE An Tho 1 wind farm project with a capacity of 200MW in Tuy An district, with a total capital of VND 4,956 billion. "We have agreed to route the transmission line to connect to the national grid, design technical power metering, etc. In the near future when the ground procedures are completed, the unit will carry out the construction work," added Ms Nittinunt Sornthong.
With large areas for renewable energy development, Phu Yen province is an attractive address, attracting many investors in solar and wind power. The whole province has currently had 32 wind and solar power projects with a total capacity of more than 4,800MW that are allowed to research and survey; has been commented by departments, branches and localities and is being proposed by the Provincial People's Committee to the Ministry of Industry and Trade to supplement Power Planning VIII. Besides, there are also many other investors who are also approaching, researching and surveying to invest in renewable energy in Phu Yen province.
Source: Phu Yen Newspaper
Translated by TRINH THUY