Intertwined opportunities, challenges for Vietnam's economy in 2023
Updated : 1/28/2023 1:46:13 PM (GMT+0700)
With certain headwinds predicted for the global economy in 2023, Vietnam too, faces considerable challenges. But opportunities are also significant if concerted and appropriate solutions are taken, an expert has said.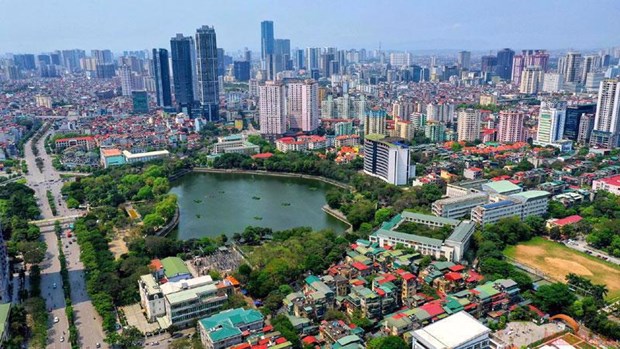 An aerial view of Hanoi capital. Photo: VNA
Vietnam has to deal with one major external challenge and two internal ones, Dr Pham Sy Thanh, Director of the Chinese Economic Studies Programme under the Vietnam Institute for Economics and Policy Research, told the Vietnam News Agency.
The external challenge is a strong decline in demand for Vietnamese exports. Many export sectors with revenue of over 1 billion USD like wood and apparel recorded their earnings in October and November 2022 falling 30 - 40% year on year and month on month. This indicates that foreign markets are no longer open or attractive enough for exports in 2023.
Export contraction will have a huge impact on many social issues, especially lay-offs, job shortages, and unemployment in industrial parks, he pointed out.
Among internal challenges, the first is that the handling of wrongdoings in the bond market and the banking system has caused serious disruptions and congestion of the capital flow. Meanwhile, the cost of capital is one of tough barriers to production and business activities, but it is nothing in comparison with the lack of capital or the inaccessibility to capital.
Thanh considered these as immediate difficulties that require strong solutions from the Government so that businesses can gain the fastest access to capital sources with reasonable interest rates.
However, he noted, Vietnamese exporters also have big opportunities to win contracts from partners who used to place orders in China. The shift of supply chains out of the world's second biggest economy to Vietnam is also accelerating as seen in recent moves by Foxconn, Apple, Adidas, and Samsung.
In Southeast Asia, Vietnam is emerging as one of the go-to places where big enterprises choose to build research and development centres.
To capitalise on those advantages, Vietnam should make concerted efforts, the expert recommended, elaborating that it should have better industrial and office infrastructure. It should also further develop the nation's transport system accordingly to minimise traffic congestion.
In addition, to have better industrial, office, and transport infrastructure, the policies for handling economic wrongdoings should also open "green lanes" for businesses and localities to make new investment decisions.
Another important measure is dealing with problems of the bond market and the banking system to smoothly carry out monetary and fiscal policies. Particularly, authorities should further prioritise fiscal policy instead of focusing only on the monetary. This will open up more economic development opportunities and optimise advantages when other economies have yet to return to their "orbits", according to Thanh.
Source: VNA