Scientific workshop "Tuy An - The heritage land": preserving cultural heritages in connection with tourism development
Updated : 11/24/2022 4:05:25 PM (GMT+0700)
Tuy An district's people's committee in coordination with the Department of Culture-Sports-Tourism and Phu Yen University have just held the scientific workshop themed "Tuy An - the heritage land". This is the activity to celebrate the Vietnam heritage day (November 23rd) and promote, develop Phu Yen province's Tourism.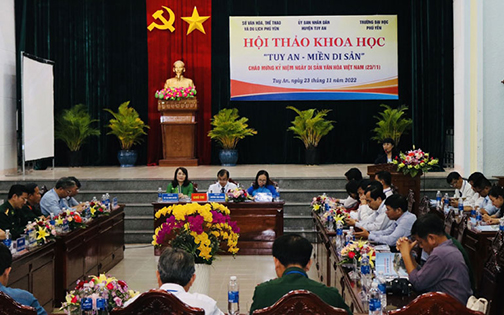 Spectacles of the scientific workshop "Tuy An - The heritage land"
Tuy An is the land established since 1611, when Phu Yen was formed during the historical length of widening the land Southwards by Nguyen Dynasty. Tuy An is currently 30km from Tuy Hoa city to the North; the district has the special national heritage of Da Dia Reef, 9 national historical, cultural, landscapes and over 25 provincial level heritages and landscapes. Apart from the tangible cultural heritages, Tuy An district also preserves a treasure of intangible cultural heritages with numerous religious, festivals and traditional craft villages….Typically, the set of Tuy An stone lithophones dated over 2,500 years, being the national treasures.
The workshop received 30 entries with greatly scientific and practical values with such issues as: identifying heritages, preserving heritages; cultural heritages in connection with tourism development…
At the workshop, the delegates discussed, raised lots of ideas to contribute and help local leaders, sectors and the province to obtain more orientations, suitable solutions to exploit the potentials, advantages of cultural heritages of the locality in connection with tourism development in the coming time.
Comrade Ho Thi Nguyen Thao, commissioner of the standing board of the provincial Party committee cum PPC vice Chairwoman, assessed: organizing the workshop is an occasion for the locality, offices and units to exchange, discuss the solutions to preserve, develop the values of the heritages in Tuy An district in particular and those of the province in general. For Tuy An district to exploit the potentials, advantages of the localities' cultural heritages, comrade Thao requested clarifying the viewpoint of developing tourism-service on the foundations of exploiting the relics, heritages and regarding this as the close connection with the task of preserving the diversity, the historical, cultural values and scenic spots, landscapes; developing tourism for the target of preserving, developing the values of historical-cultural heritages. Local governments need to intermingle the tasks of preserving, developing the heritage values with the socio-eco development programs; the programs of national target for constructing new rural areas in the locality in the sustainable orientations, mobilizing the sources within the residential communities, especially the local citizens, all for the sake of preserving, developing the historical-cultural heritages…
Source: Phu Yen Newspaper
Translated by HAI LOAN