Vietnamese nationals in Mexico celebrate Tet
Updated : 1/24/2017 10:24:41 AM (GMT+0700)
The Vietnamese community in Mexico recently gathered to celebrate the upcoming Lunar New Year (Tet) festival.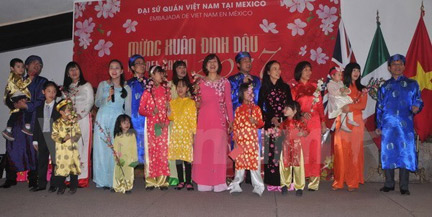 At the event in Mexico - Source: VNA

Addressing the event, Vietnamese Ambassador to Mexico Le Linh Lan reiterated the Vietnamese Party and State's consistent stance on pursuing an external policy of independence, self-reliance, openness, diversification and multilateralisation of ties, and of active and proactive global integration.
She expressed her delight at the development of Vietnam-Mexico ties with increased exchange of delegations at all levels and the establishment of a Bilateral Inter-Committee.
Speaking highly of the Vietnamese community's solidarity and mutual support in the host country as well as contributions to the national construction, the ambassador conveyed her New Year wishes to the participants on the occasion.
At the event, Vietnamese nationals were treated with music performances and traditional cuisine.
In Canada, the Vietnamese embassy joined other Asian countries at a winter night fair to mark Canada's 150th founding anniversary and.
Vietnam's fried spring rolls, wooden dragonflies, rickshaw miniatures and palm-leaf conical hats attracted crowds.
Vietnamese Minister Counsellor in Canada Nguyen Hung Son said the event affords a chance to promote cultural diplomacy, popularise Vietnam and its culture and people to international friends.
Thailand, Japan and China also joined the fair.
Source: VNA