Visiting Thi Thung tunnel
Updated : 7/26/2017 2:43:21 PM (GMT+0700)
These days of July, lots of people from inside and outside the province come to the National historical Relics of Thi Thung Tunnel (An Xuan commune, Tuy An district).
During the anti-American battle, Military Zone 5 command post and Phu Yen provincial Party Committee decided to dig the tunnel at Thi Thung mound. Commenced on May 10th, 1965 and up to August 1965, the work was completed with the total length of 1,948m, 4.5 m deep and 0.8m wide. The entire tunnel has 486 wells with the cover having wood installed, 20m separate from the disguised side door. The upper part of the tunnel has the observatory guarding station. The surrounding part is one vertical and horizontal traffic system. Once the enemies, we appeared to fight against, once completing fighting, we withdrew to the tunnel, and this caused the enemies puzzled. The tunnel system has contributed to making glorious historical feats.
In 2009, Thi Thung mound tunnel was acknowledged the national level historical relics. Together with Cu Chi tunnel (HCMC), Vinh Moc tunnel (Quang Tri commune), Thi Thung tunnel is one of our nation's large tunnels, becoming the popular sightseeing destination for many people coming to Phu Yen land.

Lots of students visiting Thi Thung tunnel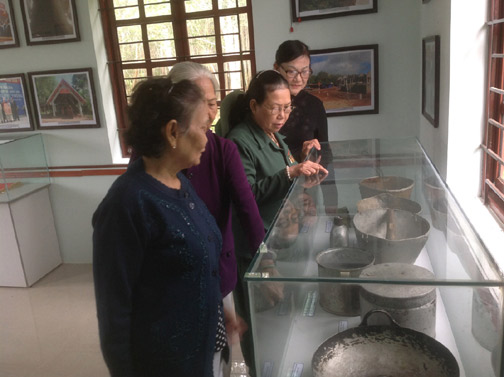 Former female voluntary youth of Phu Yen by the memoirs attached to her young days during the anti-American resistance war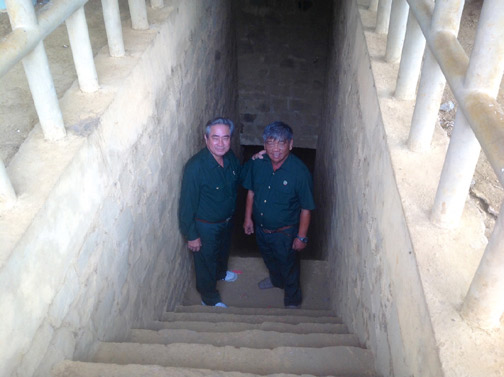 Two former voluntary youths visiting the old tunnel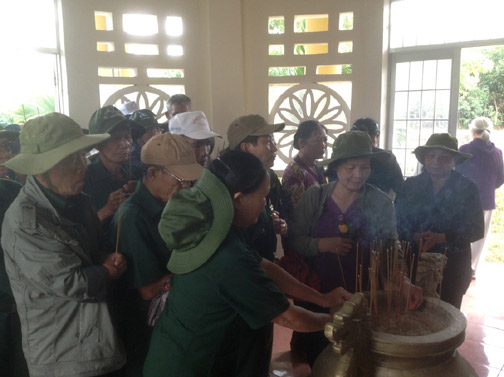 Former Phu Yen voluntary youths lighting incense sticks to show the gratitude to their companions and heroes, patriotic martyrs

Listening to the demonstration on the battle model on June 24th and 26th, 1966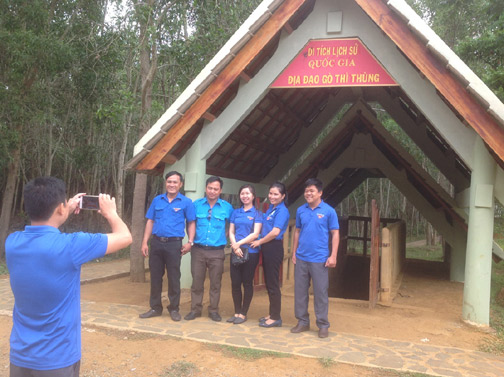 The young having memory photos taken in front of the tunnel entrance

Source: Phu Yen Newspaper
Translated by HAI LOAN