The peace on Phu Yen land
Updated : 8/27/2018 1:40:00 PM (GMT+0700)
Inspite of being located on the national highway 1 and the sea paradise chain ofVietnam, Phu Yen is very peaceful. Coming here, people feel like coming backhome rather than looking for a new land because everything is so close andintimate.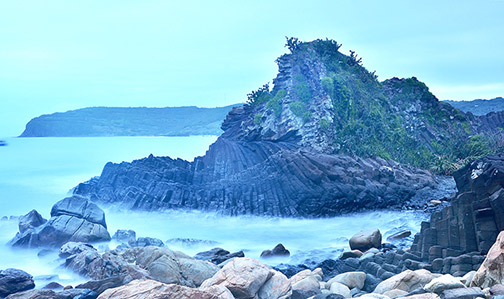 Da Dia Reef



Phu Yen has direct flights,rail lines, and convenient roads from large centers such as Ho Chi Minh, HaNoi, Da Nangand neighboring provinces. It takes tourists only about an hour of flying or anight of sleeping in couches or trains from Ho Chi Minh city to reach Phu Yen.
Phu Yen is like a valleyrunning about a hundred and twenty kilometers of the national highway 1. It hasthree sides which are three famous passes of Cu Mong in the north, Ca pass inthe south and Chu Se pass in the west. This place can be imagined to be a relaxedchair to watch the sea with the back of the majestic Truong Son mountain.Despite lying on the road with numerous famous tourist attractions, this landis not crowded with tourists for a long time. Phu Yen is just a stopover oreven being passed without thinking. However, now this place becomes an attractionto tourists due to its wildness and inherent nature beauty. When people aretired of traveling to crowded urban areas, it is a rare place left on the mapof Vietnam'ssea tourism.
The sea in Phu Yen ispeaceful but not as crowded as other places. It has long sandy beaches whichare sometimes pure white, sometimes golden and rocky cliffs along nearly two hundredkilometers of coastline. At this beautiful sea, there are not situations ofscramble for standing or bathing like in Nha Trang, Da Nang, Do Son ... even at peak time ofholidays and Tet. The beaches are picturesque with sound of casuarinas, seawaves and swinging coconuts in the wind. It is said that going to Phu Yen sea islike returning home to sit in the windy front yard.
Among unique coastal rocks, DaDia is surprisingly admired by ​​many tourists. Rising up from the sea, cracksaccidentally create stone columns like plates overlapped each other. Dueto its unique originality, it is recognized as a national beauty spot. Also, itis always a creative inspiration of painters and photographers. Nearby the sea areYen islet and Ganh Ong with green grass and cactuses. Among the cliffs aresmooth sandy beaches with crystal blue water. Especially, Dien Capeis like an arm of Truong Son mountain to reach to the sea and hold thelighthouse giving orientation for sailors and fishermen passing through thissea.
In the history of over 500years of establishment and development, Phu Yen land was known to the Frenchvery early. Besides traces of plantation economy and French buildings, there isMang Lang church existing over 125 years here. This building has a classicsymmetrical architecture but majestic and ancient. Over time, it was restoredand embellished but still retain the original architecture of one of the oldestchurches in Vietnam.In front of the church, there is an artificial cave. Here, tourists can read Vietnam's first national language book printedin 1651 in Romeand written by Alexandre de Rhodes. This rare historical valuable book of Vietnam is carefullypreserved.
Source:baocantho.com.vn
Translatedby KHUONG THAO