Phu Yen has more than "yellow flowers on green grass"
Updated : 9/13/2018 3:33:07 PM (GMT+0700)
Beingone of the oldest lighthouses in Vietnam,with more than 100 years of age, Dai Lanh lighthouse at Dai Lanh Cape (Mui Dien), Phu Yen province hasjust been one "new jacket".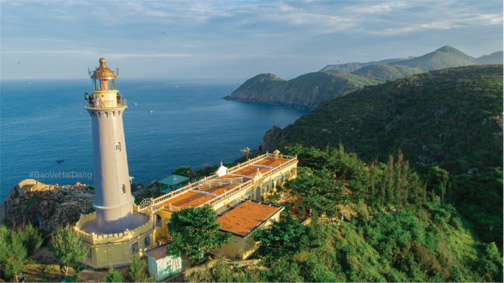 Dai Lanh lighthouse is shared by the young as the venue "must be visited once in life",
since the moment of admiring the first sunrise on Vietnam mainland is the unforgettable one



After the "fever" from thepositive impact of the film "I see yellow flowers on green grass", Phu Yen isoften referred to for having the romantic landscape beyond the film shot withthe name : the land of yellow flowers and green grass.
However, there is oneparticular trait that tourists do not miss, this is Dai Lanh lighthouse (or MuiDien Lighthouse), located at the Easternmost of the Nation.
Constructed and put intooperation since the 19th century, so far, Dai Lanh lighthouseremains quiet with the main task of orienting the marine operation andprotecting offshore fishermen. That nice meaning easily makes those settingfoot on the place the feeling of knowing themselves more clearly and expectinga better life.
Dai Lanh lighthouse has longbeen on particularly attractive tourism destination because here tourists canadmire the romantic landscapes of the blue and clean coastal zone surroundedwith the heroic mountain range. Located in the central region, Dai Lanh lighthousehas to face the harsh weather conditions of Vietnam with the number of hoursfor scorching and rainfall at the highest level of the nation.
Therefore, the project ofre-painting the lighthouse has just been supported with implementation by onepaint company. This activity is within the project chain "Let's colour" withthe purpose of protecting the world's renowned works and in each nation. Beforethat, the people's committee of HCMC, HCMC Art museumare the outstanding architectural works supported for repairing and painting.
The journey to Dai Lanhlighthouse will take you along the incredible and astonishing coastal routes.once arriving, juts needing to 'do exercises" a little with around 1km ofwaking along and up the mountain before climbing 100 wooden steps at thelighthouse tower, you deserve one romantic and heroic landscape.
Source:Thanh Nien Online
Translatedby HAI LOAN