Stone-culture heritage in Phu Yen province
Updated : 7/12/2019 7:50:00 AM (GMT+0700)
Stone has become thesymbol of Phu Yen's culture and nature. Through human creativity, stone impactson the culture of arts, beliefs and spirituality to create tangible andintangible cultural values ​​in the life of the population on Phu Yen land.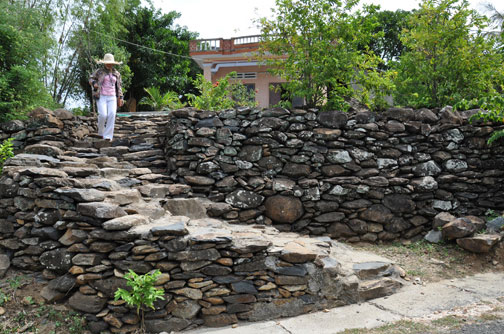 Using stone as a stepping to the house in An Ninh Dong commune, Tuy An district



Variety of types ofstone cultural heritage and natural stone heritage
Phu Yen has enjoyed hills and mountains, rivers andstreams, island and sea with many bays; is a place where many species of plants andanimals, aquatic and marine species gather, so people chose to live longtime ago. On the otherhand, most of the land in Phu Yen has rock minerals, which is very important conditions for peopleto create stone material relics. The results of archaeological excavations havedetermined that in Phu Yen, the cultural imprint was very early. Stone relicsin the stone age, cultural classes of indigenousinhabitants dating back to about from 20,000 to 6,000 years ago were found in Eo Bong relic (Son ThanhDong commune, Tay Hoa district) in various archaeological many cultures.
Phu Yen province also discovered stone artifactsbelonging to the late Neolithic era - early metal age in the province such asin Go Duong (Xuan Longcommune, Dong Xuan district), in Son Dinh commune, Son Hoa district, inBa Do dam (Son Thanh Taycommune, Tay Hoa district), at Suoi May relic (Hai Rieng township, Song Hinh district). In the area of​​coastal sand dunes, many artifacts of stone materials are chisel tools, drill bits, mill stone,grinding tables discovered at Go Oc relic (Xuan Binh commune), Con Dinh ( DiemTruong village, Xuan Loc commune, Song Cau town), Ong Dauslot (Phuoc Longvillage, Hoa Tam commune), Cay Thi mound (Hoa Hiep Nam commune, Dong Hoadistrict), Bung Dau mound (Long Thuy village, An Phú commune, Tuy Hòa city)...
Among the most typical rock cultural heritage in Phu Yenis the set of stone andstone trumpets in TuyAn district. Thetwo aboveantiques was dating back to about 3,000-2,500years ago, which are priceless treasures because of their uniqueness. They are also national treasures, a specialresource that cannot be reborn and replaceable. These two treasures need to be preservedto maintain their authenticity and values ​​as determined.
Phu Yen also has many natural stone heritage which are famousscenic spots. One of the natural stone heritage honoring the symbol of Southernland is: Da Bia mountain(The first pillar of Southern land). Da Bia Mountain not only has animportant geographical position and is attracted by the majestic andspectacular beauty of the mountains, but also the legendary mountain,associated with the legend of the stone poem of King Le Thanh Tong in the 15th century. Inaddition, Da Bia mountain has a unique status in the spiritual life of the ancientCham people and some ethnic groups considered as residents in Phu Yen earlyresidence. Along with Da Bia's reputation is Da Dia reef, the "unique" nationalscenic spot in Vietnam has great value for natural landscapes, especiallygeological structure...
The characteristics of stone-culture heritage in Phu Yen land
Phu Yen stone-culture heritage is reflected in the ceaseless creativity of theresident community living on Phu Yen land throughout the long history offormation and development. They are cultural subjects in creating stonecultural heritages with various and rich forms, and special cultural nuances. In particular, theindigenous cultural class with stone tools and stone instruments of prehistoricpeople; the next is the stone cultural heritages belonging to the cultural exchangeclass with China and India, the outstanding stone cultural heritage of Cham culture with groups: "Biky", human statues,animal statues, worshiping, architectural decoration details and stone culturalheritages of the cultural class exchanging with the West such as architectureand construction works for economic development - people's life in thenear-modern history.
Phu Yen stone cultural heritage is an innovative andtransmission product of many generations, belonging to many ethnic groups whoused to live on this land, which demonstrated creativity and was considered constants constituting the living environment surroundingpeople; impacting on the awareness and feelings of the community in each cultural space.
Under human influence, natural stone has become useful. Stonebecomes the main material to build villages; construct houses, create things for family activities andbuild irrigation works for economic development - people's life. Itssustainable characteristicis that Stone is used toname villages, hamlets, mountain and rivers; stone attaches to material benefitsand into thepeople's spiritual life.
Source: Phu YenNewspaper
Translated by TRINHTHUY