Ba river with urban landscape on the both sides
Updated : 6/9/2020 9:04:27 AM (GMT+0700)
Phu Yen has a relatively large and widely river system distributed in all localities. In particular, Ba River is the largest one in water flow, flow, silt and waterway...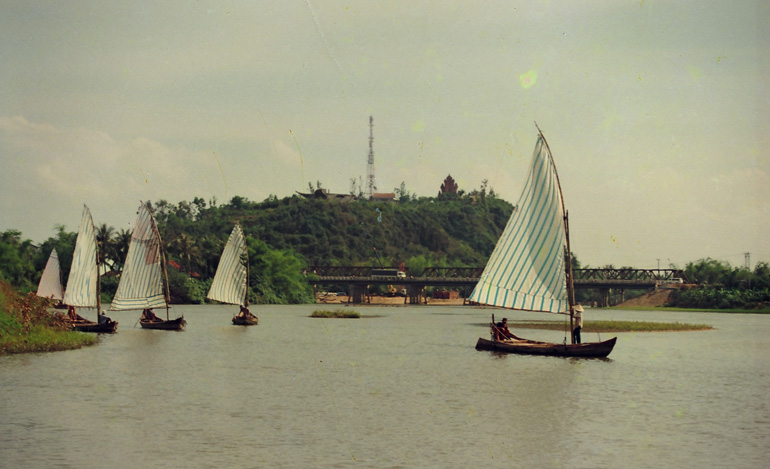 Ba romantic river once
Ba river (also known as the Father river) originates from Ngoc Ro mountain in Kon Tum province with an elevation of 1.549m above sea level, runs along Gia Lai and flows into the Da Dien estuary. In Kon Tum, it is just normal as other rivers, but after passing through many forests and being merged by many streams, Ba river has large water flow and expand it sides, bringing the total basin of 13.900 km2. Ba river increases capacity of supplying water and alluvium for plants, especially in the lower section gradually flowing into the sea.
Not only serving production, Ba river also contributes to creating landscapes for the riverside towns thanks to bridges spanning the two sides. At present, there are numerous bridges on Ba river, including Hung Vuong bridge, railway bridge, 21-span bridge (old and new one), Da Rang bridge (bypass route of the national highway) and Dinh Ong bridge (Phu Hoa district), Song Ba Ha bridge... They are both beautiful and airy, creating a landscape for new civilized and modern urban areas in the future.
For a long time, each riverside land has its own identity of voice, beliefs, cuisine, art and river civilization. Typically, Red river has Red river civilization with the soft stork melody as its flow through the Northern Delta provinces; Cuu Long river is immense with reformed folk music and Southern amateur music; the Central region has folk songs of Hue, Ba Trao, Bai Choi; Ba river is no exception to that rule.
Everyone who live in Tuy Hoa city for a long times knows that wards 2, 3, 4 and 6 are flooded in rainy season. Therefore, it is very reasonable to build embankments to create urban landscape and flood drainage. This is also the task that the locality is gradually completing on the north side of Ba river, helping to create a safe living space for people here; simultaneously, creating a new highlight for this place.
Although it depends on the provincial economic conditions, we need to consider the river an important ecological factor. Its downstream as an ecological infrastructure needs a unified planning for management. There used to be cases of sand mining and erosion changing direction of the flow and mainland cavitation, including works encroaching the river but they are temporary. We need embellishment of works, houses, riverside resorts and bridges in order to step by step arrange them consistent with sustainable flood embankment systems, perennial greenery systems, lighting systems, walking path...
As for general urban space, Tuy Hoa city has more advantages than many other lands. The population density here is not high, streets are wide and pollution from dust and noise remains low. Tuy Hoa beach is beautifully decorated with roads, sidewalks, trees and square in order to provide perspective for hotels and resorts in spite of being slower than the two adjacent coastal provinces. Therefore, in the phase that global climate change clearly affects many aspects, Ba river - the river in the urban area will regulate temperature, creating favorable conditions for modern urban architecture to development.
Source: Phu Yen Newspaper
Translated by KHUONG THAO