Phu Yen students winning the third prizes at the national level contest of science and technique
Updated : 6/23/2020 10:55:00 AM (GMT+0700)
The national level contest of science and technique for high school students in the 2019-2020 school year has just been held in Da Nang City.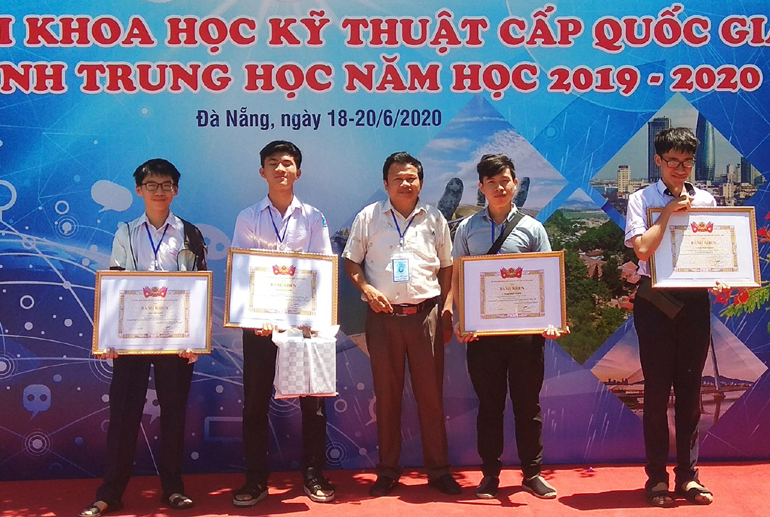 4 students of Phu Yen province awarded the third prizes at the contest
This year's contest was entered by 67 units, i.e the departments of education and training as well as other units under the management of M.O.E (ministry of education and training).137 projects of 20 sectors and 253 students were involved in the contest. 120 and 17 projects by high school students, secondary school students respectively competed for prizes. Phu Yen province had 4 participants, named: Tran Huu Bach and Nguyen Hai Chan from class 11A7, Nguyen Hue high school. The two students entered with the project named the system of smart supermarkets; Huynh Tran Khanh, class 11 Math 2 and Pham Nhat Hoang, class 12 Physics, Luong Van Chanh high school for the gifted entered the contest with the project named CONTRAUSLEUTHE-the OTC-over-the-market telecommunication network.
As to the assessment given by the organizing committee, lots of projects are oriented towards the themes of health, environment, caring about the disadvantaged. Some projects are aimed at the positive impacts on the community, namely building the habits of preserving hygiene, assisting those in difficulties and implementing the traffic safety norms…
11 first prizes, 16 second prizes, 21 third prizes and 27 fourth prozes were awarded at the contest. Phu Yen participants were awarded two third prizes.
Source: Phu Yen Newspaper
Translated by HAI LOAN