Developing Tuy An district into a marine - heritage - complex service urban
Updated : 8/4/2020 10:02:06 AM (GMT+0700)
Tuy An is a land of early population, most of the population lives on farming, breeding, and fishing. In the reign of Emperor Luong Van Chanh reclaiming the land of Phu Yen (in 1611), the name of Tuy An was called and belonged to Dong Xuan district, Tran Bien province.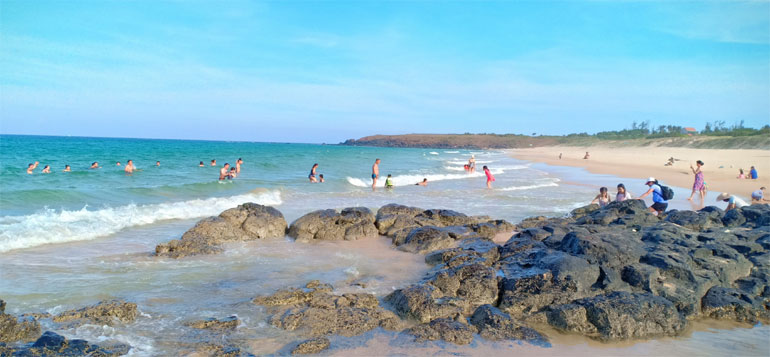 Tuy An district beach attracting a lot of tourists
Tuy An is a district with a natural area of ​​40.7 km2 and a population of 125,725 people; has 15 administrative units (including 14 communes and 1 townlet), with lower terrain from west to east; the west is the low hills, the east is the narrow plain along the Cai river and O Loan lagoon, mixed with hills and dunes.
Regarding traffic, according to the north-south direction, National Highway No.1 of 15.5 km long runs through, with DT649 as the driving force for marine economic development; in the east - west direction, there are DT643 and DT645 connecting to National Highway 19C to Van Hoa plateau (Son Hoa district), and DT641 to La Hai townlet (Dong Xuan district). Due to the divided mountainous terrain, the roads passing Tuy An district have many steep passes: on Highway No.1, there are Quan Cau pass, Tam Giang pass, Dai slope, Ba En slope, and on DT641 is Thi pass. In the future, Tuy An district will have North-South road and high speed rail running through.
Tuy An beach is 42.5 km long, from the estuary of the Binh Ba river to Dong Nai river's, with a large fishing ground, located in a diverse area of ​​seafood. Along the coast, there are many beautiful landscapes such as Da Dia reef, Lao Mai Nha island, Yen islet and Xep beach populations; white sand and clear water, protective forests, greenery fields. At the estuaries, there are long-standing sea villages, fishing festivals, and folksong festivals with the South Central Coast marine-village culture.
Tuy An district has a high density of heritage with over 50 relics of all kinds, including 8 out of 20 national monuments, such as: O Loan lagoon, Da Dia reef, populations of Yen islet, Le Thanh Phuong tomb and temple, where the massacre of Ngan Son - Chi Thanh happened, Thi Thung mound tunnels, Tu Quang ancient pagoda (White Stone pagoda), An Tho citadel. In addition, this locality also has many ancient religious works such as Bat Nha pagoda, Co Lam Hoi Ton pagoda, Thanh Luong pagoda, Mang Lang church, Cho Moi church...
Festivals and traditional craft villages in Tuy An are also very rich. For example, Thi Thung mound horse-race festival (An Xuan commune), O Loan lagoon boat-racing festival, Phu My coracle-weaving village (An Dan commune), Phu Tan mat-weaving village (An Cu commune), Hoa Da rice-paper craft village (An My commune). Tuy An has a geological structure of rock culture, the most prominent is Da Dia reef, Tuy An string and stone-trumpet, Phu Hanh stone village (An Ninh Dong commune)...
Tuy An urban vision of the future is built from local unique advantages, potentials and strengths and is set in the context of social development trends. It can be seen that Tuy An in the future is a city of marine - heritage - complex services; with 3 characteristic "keys" to promote strengths, take advantage of regional contact, retain the core of heritage.
In particular, the marine dynamic zone with a length of 42.5km of coastline runs through 5 wards: An Chan, An My, An Hoa Hai, An Ninh Dong and An Ninh Tay. The content is exploiting coastal and island beauty spots; building resorts, favoring low-rise, alternating hills and mountains, gardens, water surface; upgrading and expanding DT649, adjusting the estuaries of Binh Ba river, Tan Quy and Le Thinh so that boats can move in and out for sheltering storms; expanding to construct Tien Chau fishing port into a general port and invest in tourism by sea-going ships.
The investment projects in Tuy An must be diversified in service of urban life. Public buildings and houses in centers will be in high-rise construction, with high density of residence, creating a highlight for the space. In other areas of low-rise houses will have gardens attached to trees and water surface.
Tuy An possessing mountains, forests, plains and rivers is vast ecological areas with green spaces and considered natural "parks". With abundant potential, this locality has been striving to form a complex marine - heritage - service urban area by 2025.
Source: Phu Yen Newspaper
Translated by HAI LOAN