O Loan lagoon - Green park on the blue coast
Updated : 8/25/2020 3:33:27 PM (GMT+0700)
On the way to the North and to the South, when passing Quan Cau pass in Tuy An district, we can see a brackish lagoon at the foot of the pass (east of National Highway 1) that is O Loan lagoon - a national-level scenic spot with the peaceful beauty.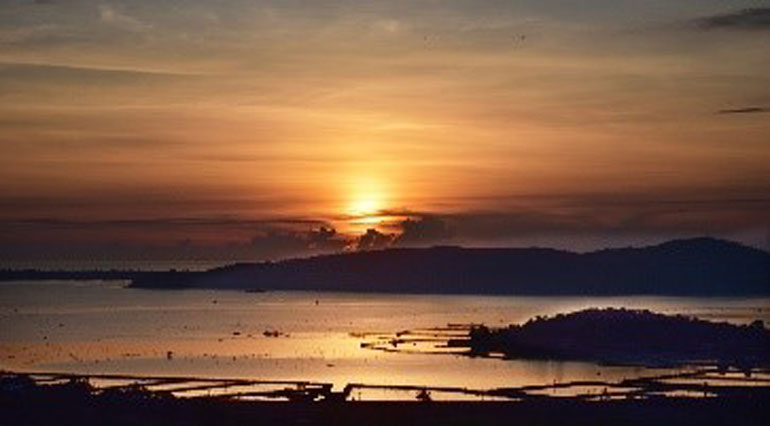 Dawn on O Loan lagoon
Fairy place
O Loan lagoon, surrounded by Dong Chay mountain, Cam mountain and An Hai sand dune, has the water surface area of ​​1,570ha with the average depth of about 1.3m. The lagoon is connected to the East Sea through two estuaries of Le Thinh and Tan Quy. The story is told that in the past, there was a extremely beautiful female fairy named Loan, who liked natural sightseeing; one day, she rode O Thuoc's bird down to earth and wandered around, when it was late in the afternoon, she came to Tuy An land and saw the beautiful scenery, the bird and she descended on Tu Bi mountain and the two turned into a lagoon; the people here combined her Loan name with O Thuoc bird and called it O Loan lagoon.
Looking down from National Highway No.1, the lagoon is gentle, romantic; it is the harmony between land and water, where the sea and sky is as small as a water-color painting. When dawn is high, the lagoon is dyed in golden color like a giant dragon bird in a posture ready to fly; when sunset falls, the light is darker and darker, the bird spreads its wings to find a peaceful place on the lake's rippling water waves.
O Loan lagoon has long been famous for not only beautiful scenery but also many precious seafood species such as cockles, shrimp, crabs, squid... O Loan cockles, when grilled or steamed, taste delicious and especially have a lot of bright red blood.
Along with O Loan lagoon, around the area, there are also famous scenic spots such as Da Dia reef, the complex of Yen islet, Long Thuy beach, Lao Mai Nha island, and Xep beach, all have enjoyed a stunning beauty. Besides, there are historical and cultural relics such as An Tho citadel, Le Thanh Phuong temple; around the lagoon are many ancient religious works such as Bat Nha pagoda (To pagoda), Tu Quang pagoda (White Stone pagoda), Co Lam Hoi Ton pagoda, Thanh Luong pagoda, Mang Lang ancient church, Cho Moi church. Here, each land and spot are the precious heritages with fascinating legends.
Tourism potentials
For a long time, O Loan lagoon was the target of spontaneous economic exploitation, people massively dug and built lakes, piled anchors to keep shrimp cages, and released kinds of fishing nets in the lagoon to make the lagoon surface ragged, water in the lagoon is increasingly less little, which has made it stagnant, and not circulated to the sea, so it has become polluted, and the precious seafood species in the lagoon are increasingly exhausted.
According to the master plan up to 2025, Tuy An district will develop into town-urban grade IV directly under the province; the communes surrounding O Loan lagoon such as An Cu, An Hoa Hai, An Hiep and An Ninh Dong will be in the inner area; O Loan lagoon is like a large green park right in the heart of the town.
In economic terms, O Loan lagoon and its vicinity, focus on tourism but do not affect the heritage; exploiting landscapes, historical and cultural relics to develop tourism, exploiting indigenous culture, culinary tourism, sea and island landscape will attach to spiritual cultural tourism because this is the strength of this land.
In the plan with special attention to the quality of the water resources in the lagoon, the water must be improved day by day; cultivating and conserving precious seafood species in the lagoon. Currently, Tuy An district has made the encroachment of lakes, piles and cages for shrimp farming cleared to open the lagoon surface, hoping for the future that precious seafood species are reproduced and developed. At the same time, there is a long-term plan to adjust the estuaries of Tan Quy and Le Thinh so as not to be in sedimentation, boats in and out to shelter storms, especially water from the sea and in the lagoon circulating during the tide; to attach the importance to the quality of fresh water sources for the lagoon, dredging Ha Yen river, creating flow from Ngan Son river to the lagoon; to convert trees on the western slopes of the lagoon, from planting short-term trees to perennial trees, afforestation, with priority given to coconut planting; implementing the program of planning to plant mangrove forests and cultivate precious seafood such as cockles, king crabs, and blue crabs... in O Loan lagoon.
It's necessary to invest in a high-class tourism resort on Long Son mountain (An Hiep commune). This mountain peak is 269m above sea level, with Bat Nha pagoda is a place to welcome sunshine and wind all year round, cool and fresh climate, green trees, charming scenery; besides, opening the cable car route running through the lagoon to Rung Duong Thanh Lau water park (north of An Hai bridge) is also important so that visitors can enjoy the entire beauty of O Loan lagoon.
With conserving and embellishing sea villages and craft villages, investing in traffic infrastructure, electricity and water supply, and cultural and spiritual works; shifting the structure of labor to work in tourism; this place becomes an attractive and experimental destination for tourists. Constructing a road around O Loan lagoon according to protection belt I, planning on construction of resorts, urban architectural form around O Loan lagoon is a garden, low-rise house, attached to the water surface, gardens, mountains and hills.
O Loan lagoon located a green park on the blue coast; along with other potentials, the locality is striving to develop Tuy An into an urban area by 2025: Sea - heritage - complex services.
Source: Phu Yen Newspaper
Translated by TRINH THUY