Culinary culture at traditional festivals
Updated : 1/13/2021 5:40:00 PM (GMT+0700)
Phu Yen has mountains, plains and seas. Therefore, the culinary life is also very diverse and rich, expressing its own culture features.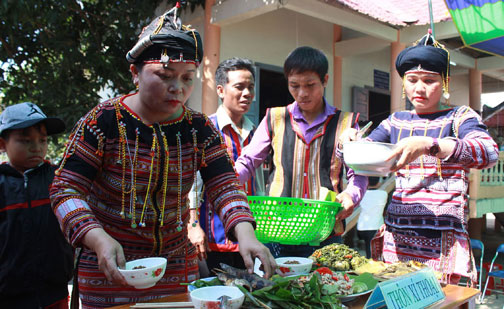 Introducing local cuisine at the festival of double drums, triple and five-fold gongs in Xi Thoai village, Xuan Lanh commune, Dong Xuan district
In addition to traditional dishes such as "banh chung", "banh tet"..., traditional festivals in Phu Yen also have numerous typical dishes, including "banh it" - an indispensable thing in festivals to celebrate great merits of historical figures such as Luong Van Chanh, Le Thanh Phuong ...
The dishes introduced by E De, Cham and Ba Na people in Phu Yen mountainous districts are quite rustic and attached to their daily life. These traditional dishes are mainly made from available things in the village. About the way of processing, most dishes always have special vegetables of Phu Yen mountains such as: "boi" soup, perch stew with golden ants, cassava leaf soup, stir-fried cassava leaves with beef...
Mr Bui Van Hiep in Xi Thoai village, Xuan Lanh commune, Dong Xuan district, lets known: "Numerous dishes of ethnic minorities have become specialties, rich in flavors of mountains and forests, attracting tourists. On cultural festivals of villages, these dishes are almost always available".
In addition to folk games, cuisine is also one of the typical cultural features at traditional festivals. However, the culinary content at festivals is still small, mainly serving the ceremony and doesn't have participation of the community. Traditional cuisine and specialties of localities in particular and Phu Yen in general have not been paid attention and promoted. At numerous festivals, the sale of refreshments, snacks, fruit, cakes… do not ensure food safety, affecting the aesthetics and culture of festivals and losing the solemnity.
Mr Luong Cong Trinh, Head of the Culture and Sports Division of Phu Hoa district, lets known: "Bringing cuisine to become one of the main contents of traditional festivals is also an opportunity for organizations and individuals to approach, learn and improve the processing capacity, enriching local cuisine and opening opportunities for culinary business, improving people's lives and attracting tourists. Therefore, guiding and helping people to register for participating and organizing culinary stalls are also solutions to create attraction of traditional festival cuisine".
According to Mr Le Ngoc Minh, Deputy Head of Tourism Management Division (the Department of Culture, Sports and Tourism), in order to food at traditional festivals more attractive, the festival organizers need to have diagrams and locations for participants to sell food; having rules and registration form for selling dishes, commitment to ensuring food safety, protecting environment, culture and limiting duplication.
"As for tourists in and out of the localities, the organizers need to announce the culinary content for them to know and join, hence attracting more and more visitors. There need to be voting forms of food stalls for visitors and organizers to vote and promptly commend and encourage at the festival closing", Mr Le Ngoc Minh said.
In addition to folk games, cuisine is also one of the typical cultural features at traditional festivals every year. Cuisine vividly reflects the material and spiritual life of people, contributing to the cultural richness and diversity of regions in Phu Yen in particular and Vietnam in general.
Source: Phu Yen Newspaper
Translated by KHUONG THAO