Nua island: The intact and romantic beauty
Updated : 11/17/2021 10:21:23 AM (GMT+0700)
Phu Yen is renowned as the destination with lots of natural landscape bearing the heroically historical imprints. Nua island is a "must-to-be visited" place when once comes to Phu Yen. The island is at the altitude of 105m against the sea level and isolated in the sea border between Khanh Hoa and Phu Yen province.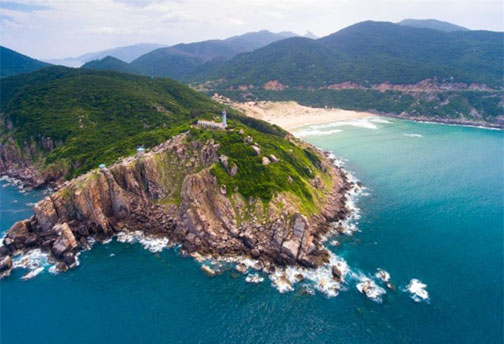 Nua Island
Standing on Ca Pass and looking down, you will see a wonderful landscape which comprises an upright cliff on a side and an intact small island in the North of Vung Ro Bay on the other side. That is Nua island, one of the intact island with the simple and natural beauty.
The shape of Nua island is strange with the high cliff forming an arch to fully hold the golden sand beach, the turquoise sea surrounding the huge and grandiose mountain. The sea water in Nua island is very transparent due to the fact that tourism here has not developed, once can freely indulge oneself in the cool water and have fun with friends in the unusually intact scene.
Here, tourists can enjoy such fun activities as fishing, sitting on the rock top to admire the sunset, trying to be Robinson on a quiet island….Or visit Dai Lanh Market to buy seafood because seafood here is low-priced, diversified and particularly delicious. Not only that, once can witness the scenes of canaries making nests, looking at the company's staff coming to care for the birdnests.
Coming to Nua islet, let's spend time to admire the sunrise and sunset at sea, because the these are definitely the moments forever in your mind, with such an unknown peaceful, fresh landscape and the intact beauty full of romance.
Source: Doanhnghiep.vn
Translated by HAI LOAN