Ba Na people preserve and promote their distinct identity
Updated : 3/8/2023 5:05:00 PM (GMT+0700)
In Phu Yen, Ba Na ethnic group has over 4.800 people, scattered in the 3 districts of Dong Xuan, Son Hoa and Song Hinh. Ba Na people are one of the long-standing residents in the mountainous areas of Phu Yen. They have overcome numerous ups and downs of history and established a rich cultural identity.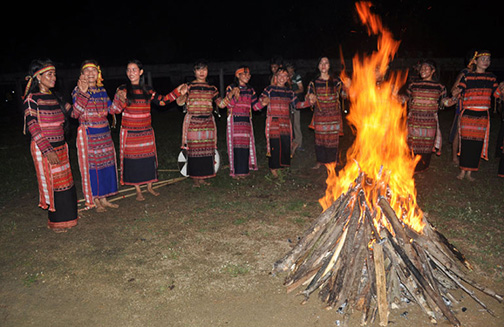 Ba Na girls in Phu Mo commune (Dong Xuan district) dancing by the sacred fire
At the end of the 19th century, Ba Na people live in Cham Dieng village, Phu Mo commune (Dong Xuan district). However, the village could not stand the oppression of the French colonialists, so they had to evacuate to other places. Then, Ba Na people of Cham Dieng village formed Xi Thoai village, Xuan Lanh commune and Dong village, Phu Mo commune (Dong Xuan district). Others moved to Hon Ong, Son Phuoc commune; Suoi Da, Da Ban, Phuoc Tan communes (Son Hoa district). They even came to live at the foothills of Me Bong Con mountain, Suoi Bieu and Hon Nhon (Song Hinh district).
One of the recognizable characteristics of Ba Na residence is that they often settle in mountainous areas, with rich and diverse flora and fauna, abundant forest cover, and an inexhaustible source of water all year round. This is the favorable condition for the development of farming and raising cattle... It is also the common feature of the ethnic minority communities in the Central - Central Highlands.
The traditional house of Ba Na people is stilt house with two different styles of small one and large one. In the past, large stilt houses were suitable for many generations of a family and common among Ba Na people. But now the long stilt house of Ba Na people has disappeared a lot.
According to Mr Le Mo Tu in Phu Loi village, Phu Mo commune (Dong Xuan district), among traditional houses of Ba Na people, the communal house most clearly shows their ethnic characteristics as well as its unique beauty which is harmonious with mountains, trees and people. Previously, the communal house of Ba Na people was built quite large and luxurious, standing prominently in the middle of the village with two domes. Each village has its own communal house with different scale and decorations. They are all rustic, simple but delicate and vivid like the life of Ba Na people. The communal house is also a place of work, meeting, common discussion; s place where unmarried young men and widowers come to sleep at night; a place to receive guests from distant villages… "It is also a place to organize community festivals, a place where village elders tell their children and grandchildren about their origin, activities, heroic people participating in fighting against foreign invaders, exterminating tigers, leopards... That's why every Ba Na resident is proud of their communal house", said Mr Le Mo Tu.
According to Mr Ra Lan Tien, Secretary of the Party cell cum Head of Gia Tru village, Phuoc Tan commune (Son Hoa district), Ba Na people believe that all things are animistic, so in their spirituality there are many other gods ("Giang") such as god of mountains, god of rivers, god of earth, god of trees, god of water... Among them, there are evil gods bringing risks, sickness, disease, crop failure... and good gods to keep people healthy, keep the stove always on fire and give villagers a full life.
"Currently, along with economic development, Ba Na people in Phu Yen have gradually abolished outdated customs, approached intensive farming in crop production and livestock production, initially bringing encouraging economic efficiency. Despite the diverse cultural interference, Ba Na people in Phu Yen still preserve and promote their cultural traditions imbued with their identity. At their residence, Ba Na people actively participate in such patriotic emulation movements as joining hands to protect peaceful villages, build new rural areas and gradually improve their material and spiritual lives", said Mr Ra Lan Tien.
Source: Phu Yen Newspaper
Translated by KHUONG THAO