ASEAN Defence Ministers' Meeting Retreat opens in Hanoi
Updated : 2/19/2020 2:38:45 PM (GMT+0700)
The ASEAN Defence Ministers' Meeting Retreat (ADMM Retreat)officially opened in Hanoi on February 19 morning, under the chair ofVietnam's Defence Minister Ngo Xuan Lich.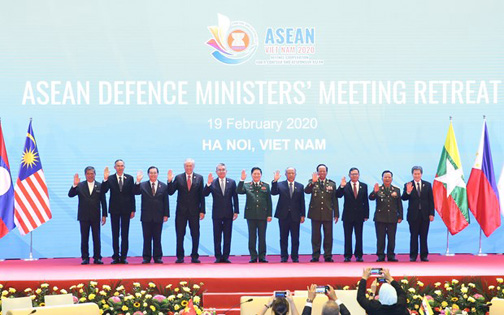 Officials pose for a photo at the ASEAN Defence Ministers' Meeting Retreat in Hanoi
on February 19 - Photo: VNA



In his opening remark, Minister Lich thanked ASEAN membercountries for supporting Vietnam in performing its rotary Chair of ASEAN. Heexpressed his belief that the defence-military cooperation channel willcontinue to contribute importantly to the building of the ASEAN Community in2020, bringing a better life for ASEAN people.
Lich stressed that the ADMM Retreat took place amidstcomplicated developments of security challenges, especially the outbreak andrapid spread of the acute respiratory disease caused by coronavirus(COVID-19). 
As ASEAN Military Medicine Chair, Vietnam proposed thatmember countries consider organizing drills to cope with disease outbreaks andspread in 2020, he said.
He went on to say that Brunei and Australia, as co-chairs ofthe ADMM-Plus Experts' Working Group on Military Medicine during2020-2023, are encouraged to include the response to disease outbreaks in fieldexercises during the three-year working programme.
Vietnam also called for partner countries in the ADMM Plusmechanism to enhance their cooperation in raising ASEAN countries' capacity inmilitary medicine, especially for responding to disease outbreaks, the ministersaid.
Minister Lich expressed satisfaction at the outcome of theworking session of heads of ADSOM delegations on February 18, which agreed toissue a joint statement on defence cooperation against disease outbreaks. Hedescribed the joint statement as a specific evidence of the unity, resolve andproactiveness of ASEAN when facing common security challenges.
According to the minister, the ADMM Retreat, which is thefirst high-level event during Vietnam's ASEAN Chairmanship Year 2020, is veryimportant in outlining the orientation for ASEAN defence cooperation in 2020 aswell as in preparing for ADMM and ADMM Plus at the end of the year.
Lich urged delegates to engage in straightforward and opendiscussions on security challenges faced by the region and the world,particular the ASEAN, and on assessment of ADMM, ADMM cooperative mechanisms,as well as directions and contents for cooperation in the time ahead.
Source: VNA