Continuing to maintain and publicly announce DDCI
Updated : 2/26/2020 2:20:00 PM (GMT+0700)
The PPC has just announced DDCI in 2019. In the talkwith Phu Yen newspaper, Dr. Vo Ngoc Anh, head of the research team intoDDCI in Phu Yen province, let known: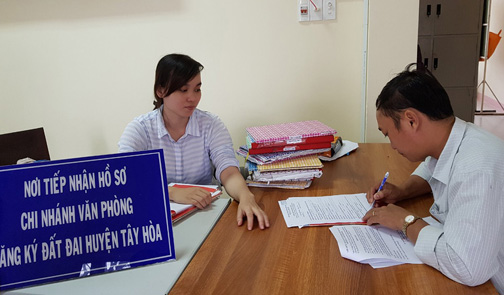 The branch of Tay Hoa district office for land registration, where the inhabitants are
instructed procedures for land registration



- DDCI is constructed similarly an assessmenttool, reflecting the practical situation of trading and the informationfoundation accumulated in the past years, from which to construct practicalmeasures and solutions for the units and offices to participate in assessingwith the aim of dealing with any difficulties and entanglements face by theenterprises. The second year for implementing DDCI, Phu Yen hopes to assess andreview the positive as well as limitations in the task of directing, monitoringby the PPC, with the tools of segment indexes. Through which, more profound andpractical directions will be issued to create favorable conditions for theprovince's enterprise community to develop in a more favorable conditionsduring the process of operation and trade.
* What areproved from the results of assessing DDCI in the year 2019 in Phu Yen, sir?
- The results of DDCI in Phu Yen province in 2019shows that generally, the province has limitations in both consulting andmanaging at department and locality level.At the locality level, there are obvious limitations in equalcompetition, getting access to land, the stability of land use and legitimacy,time costs and getting access to information whereas at department level, thoseweaknesses lie in legitimacy, services supporting the enterprises with theroles of the leasers and time cost, too. As such, the shared weakness in bothlevels is the legitimacy and time cost. As for satisfaction level, thedepartment and sector level is more appreciated than the locality one. DDCI PhuYen has clearly pointed out the roles and positions of each unit in the segmentindex to create the common competitiveness of Phu Yen
* Based onthe research done into the strengths and weaknesses, what should be done by PhuYen in the coming time to complete this index?
- Phu Yen needs to continue maintaining thepublicity of DDCI in the coming years, with the purpose of creating thecontinuous competitiveness and creating the data base for measuring,supervising the quality of monitoring the province's economy and the unitspursuant to time. Simultaneously placing the entire province's target in theyear 2020 to head towards reaching and surpassing the average level of allsegment indexes depending on the starting point in 2019.
Based on DDCI Phu Yen 2019 database, the unitsactively set targets and determine the activities as well as concrete itineraryfor the activities to improve their own sectors, so do they interact with theenterprises. The PPC enhances the implementation of informing, communicating tothe enterprise community of the efficiency, effectiveness of the DDIC index setfor the enterprises to master and accompany with the local governments inenhancing the competitiveness, laying firm foundations for attractinginvestment.
Source: Phu Yen Newspaper
Translated by HAI LOAN