There are no cases of being medically isolated
Updated : 2/27/2020 2:03:00 PM (GMT+0700)
"Phu Yen province has not seen any cases of beingmedically isolated at the concentrated isolation foundation. The issue ofreceiving Vietnamese citizens from the epicenter to the province is only themeasures issued by the authorities to get ready to cope with any necessarysituations", Doctor major II Nguyen Thi Mong Ngoc, Director of the HealthDepartment asserted.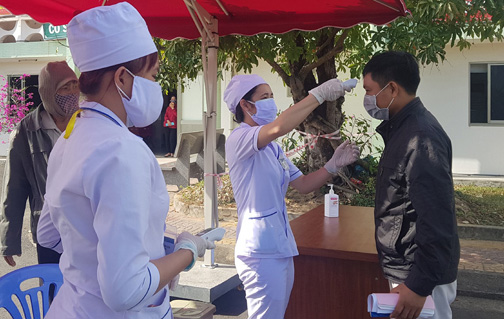 Medical staff screening those coming for medical check-up and treatment at Phu Yen
general hospital



Doctor Mong Ngoc let known:
- Implementing the directions ofthe Secretariat, the government, Health ministry, the standing board of theprovincial Party committee, the Health department has consulted the PPC onimplementing the task of preventing and coping with COVID-19 in the province, and this is done in a drastic, urgent and efficientmanner.
Sofar, all government levels from the province to the commune have establishedthe directive board to prevent and cope with the epidemic with the leadersbeing chairmen of the locality's people's committees. The offices and units aswell as localities have constructed and organized plans to prevent and copewith the epidemic.
Thehealth sector has proved  the role ofbeing master in coping with this serious epidemic: instructing, training themedical staff, schools, working foundations; spraying chemicals to sterilize atthe crowded places; following, mastering the information, timely discoveringany cases coming from/to; supervising, inspecting the epidemics; isolating,following the heath situation under stipulations; arranging the reception areas  to receive patients, diverting routes,treating, storing medicine, chemicals, equipment, preparing the concentrationisolation foundations to receive when situation occurs; constructing scripts tocope with the epidemic  situations,processes, solutions of operation and drills; organizing the checking patrolsto check the task of preventing and coping with the epidemic.
Withthe drastic involvement of the entire political system, the awareness of theinhabitants and the sense of responsibility of joining hands by the entirecommunity, the situation has been obviously improved. Up to February 24th,in Phu Yen province, there are no cases of being confirmed, suspected of beinginfected and cases of having close contact which requires medical isolation.
* Atthis point of time, which advice do you give to the inhabitants for the sake ofthe most efficient measures to prevent and cope with COVID-19? 
- I do hope everyone is calm and shows thesense of responsibilities to take care of their own health and the health ofthe entire community. This can be done by fully, precisely implementingmeasures of preventing and coping with the epidemic as instructed by the HealthMinistry.
Source: Phu Yen Newspaper
Translated by HAI LOAN