Youth Month must be creative and remarkable
Updated : 3/1/2020 11:19:47 AM (GMT+0700)
Onthe morning of February 29th, at Nguyen Thai Binh high school, XuanPhuoc commune, Dong Xuan district, the provincial Youth Union held a warm-upceremony for the Youth Month 2020. Having a dialogue with Phu Yen Newspaper about main activities deployed by union at alllevels in the peak month of volunteering and creativity for community life, Mr. Phan Xuan Hanh, Secretary of the provincial YouthUnion, lets known: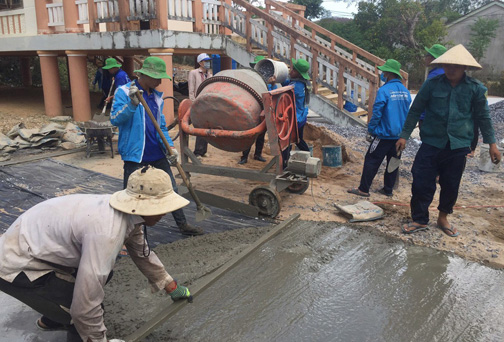 The youth unionists of Mientrung Industry and Trade College concreting the volleyball
court in Ea Bar commune, Song Hinh district



-Since 2004, at the proposal of the Ho Chi Minh Communist Youth Union CentralCommittee, the Party and the State have decided to take March as the YouthMonth, with the aim of promoting assaulting and voluntary spirit of youngpeople participating in socio-econo development, new rural construction, civilizedurban construction and social security assurance; simultaneously, attracting alarge number of youth union members to participate in building Youth Unions atall level through volunteering activities; expanding the solidarity front andgathering young people.
TheYouth Month this year aims to create an emulation of young people in the wholeprovince with specific actions and works to welcome party congresses at alllevels towards to the 17th Party Congress of Phu Yen provincialParty Committee, the 13th National Party Congress, commemorating the89th anniversary of Ho Chi Minh Communist Youth Union (March 26th,1931-March 26th, 2020).
* Along with young people across the country, what keyactivities will be done by Phu Yen young people to practically respond to theYouth Month, sir?
-With the theme of "Youth Phu Yen are voluntary and creative for thecommunity", the Youth Month 2020 is organized from February 29thto March 31st, 2020. The Youth Union at all levels will focus ondeploying activities with key contents, including: propagating and educatingthe glorious tradition of Vietnamese youth and Ho Chi Minh Communist YouthUnion; organizing activities to promote voluntary and creative spirit of youngpeople for the community; supporting young people to start up; counseling andintroducing jobs for the youth; building a strong Union, expanding thesolidarity front, gathering young people and organize activities to accompanyyoung people in international integration. 
Accordingly,the union at all levels implement projects and works, organize voluntary youthteams for new rural construction; launching "Green Sunday" incommunes, wards, towns, agencies and units on March 1st. Each unionregisters to carry out works ofcivilized urban construction and environmental protection activities;actively coordinating with agencies, sectors and authorities at all levels topropagate and implement the prevention and control of COVID-19 disease; givingmedicine and gifts to the poor; building playgrounds and organizing activitiesto support young people in difficult circumstances; simultaneously coordinatingwith the Department of Culture, Sports and Tourism to organize Da Bia rockclimbing tournament in 2020 on March 21st; organizing competitionsto find creative ideas of young people to solve social issues; organize the"Creative start-up" contest for students and young people, the YouthUnion Day, Children's Day and "Progress to the Union", the campaignof "The Youth unionists strives to become a member of the Communist Partyof Vietnam" ...
* In order for the Youth Month activities to bepractical, broad and in depth, what do you recommend to the youth of theprovince?
-It is possible to say that every month is also the Month for the youth butperhaps in March, the opportunity to show and devote the youth energy is evenmore clear. I hope that each unionist will promote all energy, intelligence aswell as progressive spirit and enthusiasm of youth, pioneering in all fields tosuccessfully complete tasks of the Youth Month. 
TheYouth Month this year takes place in a complicated situation of COVID-19diseases. Therefore, the union at all levels should monitor regularly andtimely report on the disease situation; coordinating with the health sector andfollow direction of the disease prevention steering committee and local leadersto taking activities in the Youth Month appropriately, ensuring effective andsafe implementation, strictly comply with regulations on disease prevention.
Source: Phu YenNewspaper
Translated by KHUONGTHAO