Positive movement in ramifying vocational schooling
Updated : 3/2/2020 11:23:33 AM (GMT+0700)
During the recent years, the labor market has constantlylacked a large workforce with technical skills, therefore, encouraging studentsto attend vocational training institutions has been much concerned.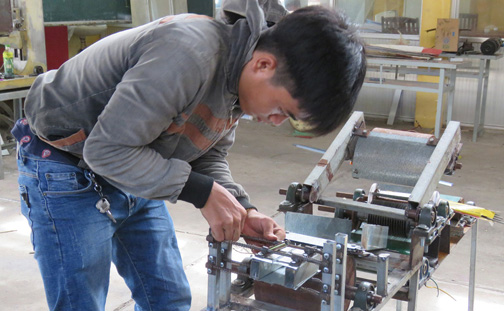 Apprentice in Industrial electricity at Phu Yen Vocational College



In Phu Yen province, many businesses go to vocationaltraining institutions to place orders and recruit technically skilled workersbut the recruitment is insufficient due to the number of students attending thevocational institutions is not much.
Master Huynh Manh Nhan, Head of Training ManagementDepartment (the Central Industrial and Commercial College), said, "The realityduring the past years has shown that after the intermediate-school and collegegraduation exams, a lot of enterprises participated in recruiting at theschool. In some professions, while students have not finished studying,businesses have proposed recruitment issues. At the graduation ceremony,usually from 80% to 90% of students are recruited immediately".
Because the market is "thirsty" for a largeworkforce of skilled technicians, encouraging students to attend short-term,intermediate or college vocational training is specially made focus with manyfavorable policies for learners by the Government, Ministry of Labor, WarInvalids and Social Affairs.
In order to attract vocational students, the schools in the provincialvocational education system have made great efforts in promoting counseling andvocational guidance for junior high school and high school students, sincethen, they have more useful information in choosing their future career path,eliminating the thought that university is the only successful way.
In the school year of 2019-2020, the Central Industrial andCommercial College recruited 1,353 students. In particular, the college levelhad 581 students; the intermediate level was 772 students. Among the 1,352students were more than 1,000 students just graduated from junior secondary schools.According to Dr. Tran Kim Quyen, Rector of the school, if the students are welloriented to attend intermediate schools right after graduating from junior secondaryschool, the society will have a more skilled workforce that has trained.
Since 2019, the Ministry of Labor, War Invalids and SocialAffairs has coordinated with ministries, branches and localities to select andapprove key industries and trades in the period of 2020-2025 in order to soonsolve the "issue" of skilled human resource scarcity. Accordingly, there are289 key industries and occupations at all levels (of which 62 areinternational-level occupations; 93 are ASEAN-level professions and 134 are atnational level). The selected industries and occupations are in great demand ofhuman resources in accordance with the requirements of developing skilled humanresources of the branches and localities, suitable with the development trendof modern science and technology and national competition and joined to implementrestructuring economy in the integration trend. Therefore, students alsobenefit from such policies as financial support, talent attraction,recruitment...
Source: Phu Yen Newspaper
Translated by TRINH THUY