Starting the series of PP22 program activities in Phu Yen
Updated : 6/22/2022 3:30:24 PM (GMT+0700)
Within the framework of the Pacific Partnership 2022 (PP22) program in Phu Yen, on June 21st, Khanh Hoa 01 Hospital ship of Vietnam Navy participated in the program by providing free medical examination and medicine to the people of Hoa Xuan Nam commune (Dong Hoa town).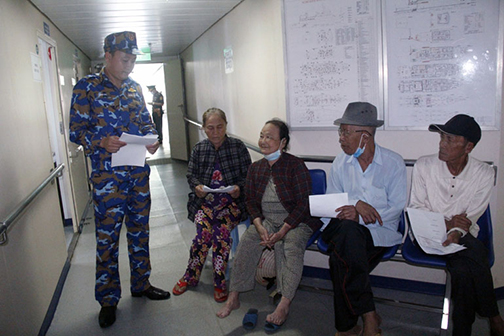 Officers and soldiers of Khanh Hoa 01 Hospital ship are guiding people before entering the on-board medical clinic
The commander of Khanh Hoa 01 Hospital ship informed that the program will provide medical examination, outpatient treatment consultation and free medicine for about 180 people. This activity takes place from June 21st to 24th, people will be guided by Vung Ro port border guards at to take the hospital ship being moored at Vung Ro port.
Besides the activities of medical examination and treatment, providing medicine for people, Khanh Hoa 01 Hospital ship also has a program of medical exchanges and seminars with the USNS Mercy ship of the PP22 program.
* On the same day, the PP22 program worked with Phu Yen Center for Disease Control and 9 medical centers of districts, towns and city in the province to share information and experiences in the field of the COVID-19, Japanese encephalitis, dengue fever prevention and control. PP22 experts shared information about the diagnosis of Japanese encephalitis virus; forecast on the situation of dengue epidemic spreading in the future on a world scale.
The two sides also shared about Vietnam's diagnostic process at different levels for the COVID-19 epidemic; virus response measures, diagnosis, monitoring and testing of COVID-19 samples. PP22 experts described the recent COVID-19 strains and clinical infections as well as the evolution of the COVID-19 epidemic in the world in the current period.
The activities of the PP22 program will be taken place until July 3rd, 2022.
Source: Phu Yen Newspaper
Translated by HAI LOAN