Safety for fishermen to cling to the sea
Updated : 11/6/2022 7:40:00 AM (GMT+0700)
With the attention and support from all levels and sectors, including the Red Cross Society (RCS), fishermen resiliently cling to the sea to exploit seafood despite numerous difficulties. The program of Safety for poor and disadvantaged fishermen in coastal communes organized by the provincial RCS gives more motivation for fishermen to rise up in life.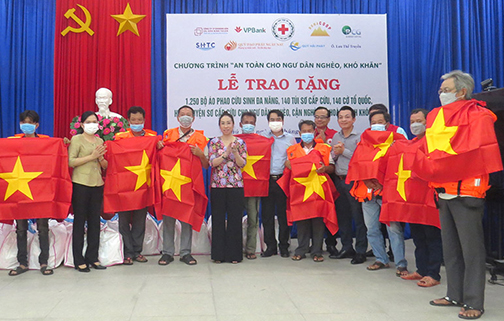 Presenting the national flags to fishermen in Ward 6, Tuy Hoa city
Mr Huynh Tan Tinh, Chairman of the provincial RCS lets known: implementing the program of Safety for poor and disadvantaged fishermen launched by the Central RSC at the end of October, the provincial RSC has organized communication, education, dissemination of law and first aid for fishermen in communes of An Hoa Hai, An Ninh Dong (Tuy An district) and Xuan Canh, Xuan Thinh (Song Cau town). Within the framework of this program, the provincial RSC has also built 10 houses with the cost of 50 million dongs per one; distributing 2.150 multi-purpose life jackets; presenting the national flags and 200 first-aid bags to poor and disadvantaged fishermen in the province.
According to Mr Tinh, at the end of September, the provincial RSC also donated and equipped 100 first aid bags for vessels in An Hoa Hai and An Ninh Dong communes. Accordingly, each vessel is supported with from 3 to 4 bags, each worth 300.000 dongs, including cotton wool, bandages, gauze, alcohol, antiseptic, eye drops, wind oil... so that fishermen can promptly handle accidents and injuries when fishing at sea. "This program aims to improve working conditions, safety and livelihoods for poor and disadvantaged fishermen, contributing to encouraging them to cling to the sea", said Mr Tinh.
The multi-function life jacket is a product researched and invented by Mr Vo Van Hoang Minh, including many useful tools to help fishermen to survive at sea for about 8 days to wait for help in case of accidents or natural disasters.
At the ceremony to award multi-function life jackets held in Ward 6, Tuy Hoa city, Mr Vo Van Hoang Minh, the inventor of the multi-function life jacket, instructed fishermen how to use life jackets and other related equipment effectively in case of an accident. Along with that, functional sectors propagate on sovereignty of sea and islands, regulations on fishing at sea, especially not to violate foreign waters for illegal fishing.... "Equipping life jackets, giving gifts to poor fishermen and near-poor fishermen helps them avoid natural disasters and incidents at sea, reduce risks, overcome immediate difficulties, feel secure to cling to the sea and contribute to preserving the sea and islands of their homeland," said Mr Minh.
Receiving life jackets and first aid bags, fisherman Bui Van Long in An Hoa Hai commune (Tuy An district) shares: Fishermen catching seafood far from shore sometimes have good trips, sometimes lost trips but they still unite and support each other in fishing and developing economy. In front of the national flag, fishermen are united in our efforts to overcome difficulties to both develop the family economy and contribute to protecting the country's sacred sovereignty over sea and island.
Talking about the resilience of fishermen, Mr Phan Thuan, Chairman of the Fisheries Union of Ward 6, Tuy Hoa city, lets known: The Party and State have had numerous practical policies, local authorities and communities have also effective activities to support fishermen to cling to the sea. Facing difficulties, the RCS always accompanies, mobilizes and supports fishermen to know how to deal with accidents at sea, helping fishermen to feel secure and continue to reach out to sea.
PPC Vice Chairman Dao My lets known: The donation of life jackets, first aid bags, national flags and first aid training to poor and near-poor fishermen in difficult circumstances has practical significance of helping them avoid natural disasters and incidents at sea, reduce risks, feel secure to cling to the sea, contribute to preserving the homeland's sea and islands. This is a practical and meaningful gift for fishermen to avoid natural disasters and stay safe at sea.
Source: Phu Yen Newspaper
Translated by KHUONG THAO