Tuy Hoa city striving to invest in infrastructure to ensure traffic safety
Updated : 11/10/2022 2:30:00 PM (GMT+0700)
In an effort to ensure traffic order and safety, Tuy Hoa city has carried out many propaganda activities to raise people's awareness of road traffic law observance, combined with activities of inspecting and handling violations.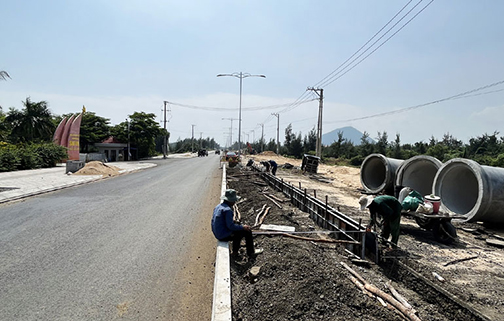 Workers constructing road widening works to ensure the coastal mobile forces in Tuy Hoa city (Le Duan road extension at phase 2)
Along with that, the locality is rushing to complete construction investment works in the field of road traffic to create conditions for people to travel conveniently and safely.
In order to raise people's awareness when participating in traffic, Tuy Hoa City Police has carried out many activities of propagating, popularizing and mobilizing the public to participate in ensuring traffic safety in the area. The propaganda activities are deployed flexibly with many forms, especially through social networking sites such as Zalo, Facebook, etc. The unit also cooperates with schools to organize propaganda on traffic safety legislation for thousands of teachers, students in the area.
Since the beginning of the year, Tuy Hoa City Police has worked with 72 transport companies and businesses, requesting a commitment to strictly observe legal provisions on traffic safety, not to carry oversized or overloaded goods, not to expand the lorry carriage. The unit also requires 87 business households to sign a commitment to strictly abide by the provisions of the law on traffic safety, urban order and environmental sanitation. At the same time, Tuy Hoa City Police also speeds up patrolling and handling violations of traffic safety regulations throughout the area. The unit has coordinated with other forces to organize nearly 700 patrol and control shifts; fines for violations with the amount of over VND 1.9 billion.
According to Senior Lieutenant Colonel Nguyen Huu Son, Chief of Police, Deputy Head of the Standing Committee of Traffic Safety Board of Tuy Hoa city, in the process of patrolling and handling violations, the unit regularly surveys and updates inadequacies that pose a risk of traffic insecurity and propose handling measures. Up to now, Tuy Hoa city has supplemented, and repaired the sign system at 63 intersections; installed 2 additional warning light posts on Le Duan route at Le Duan-An Duong Vuong intersection; repair signs at the entrance to inner city roads; repaint the painted lines dividing road sections, lanes, the painted lines for pedestrians crossing, speed humps on inner city roads; clearing trees at intersections, etc. to ensure traffic safety in the city area.
In 2022, Tuy Hoa City People's Committee has invested in building 7 road traffic works to ensure the inhabitants' safe travel needs. The works being implemented include: Upgrading and expanding route 3/2 (Phu Thanh ward); Treating local flooding on Mau Than street (the junction of Tran Phu street) and the western intersection of Hung Vuong - Phan Dang Luu streets (ward 9); Widening the road to ensure the coastal mobile forces of Tuy Hoa city (An Phu commune); Investing in roads and public lighting systems in Dong hamlet, the section from residential area of ​​Dong hamlet to National Highway 1 (Phu Thanh ward), etc.
Currently, the investment construction of road and public lighting system in Dong hamlet, the section from Dong hamlet's residential area to National Highway 1, Phu Thanh ward, Tuy Hoa city has been completed 97% of the volume. Tuy Hoa city has been applying to connect this road to National Highway 1 to soon complete it for people to travel.
One of the works being focused on the construction with the goal of basically completing 2 lanes to serve people in the upcoming Tet holiday is the road widening project to ensure the coastal mobile forces in Tuy Hoa city (extending Le Duan street at phase 2). The project has a total investment of VND 210 billion, construction from Km4+205.28-Km8+268.13 with a length of about 4km, in An Phu commune, Tuy Hoa city. The work has been currently completed about 40% of the volume, with a single lane used. The contractor has been making efforts to deploy the remaining lane, striving to complete about 70% to 80% of the work volume.
Source: Phu Yen Newspaper
Translated by TRINH THUY