Increasing the rate of vaccination against COVID-19 for under-18-year old citizens
Updated : 11/11/2022 3:13:44 PM (GMT+0700)
Mr Le Tan Ho, Member of the provincial Party Standing Committee cum PPC Standing Vice Chairman has just chaired a meeting to implement measures to speed up the progress of vaccination against COVID-19 for children under 18 years old in the province. Attending the meeting were representatives of the provincial Fatherland Front, departments, agencies, mass organizations and localities in the province.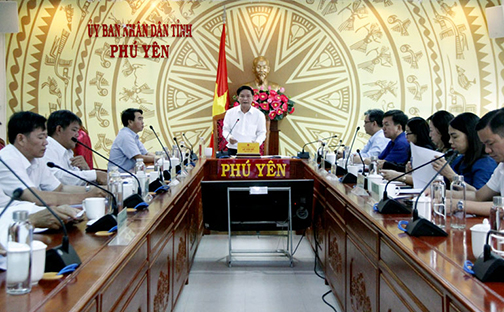 Comrade Le Tan Ho addressing at the meeting
According to the report of the Department of Health, currently, the rate of vaccination against COVID-19 (3rd dose) for children aged 12 to under 18 years old in the province is about 31,6%, the lowest in the country (the rate of the whole country is 62,6%). In which, some localities have low vaccination rate such as: Dong Hoa town (17,2%), Song Cau town (26%), Tuy Hoa city (18,3%), Tuy An district (32,1%). For children from 5 to under 12 years old, the injection rate of 1st dose is 82,5% and 2nd dose is 51,9%, still lower than the national average. The number of vaccines distributed by the central government to the province is currently 27.990 doses with a defrost deadline until November 30th, 2022.
The low vaccination rate is due to some reasons that the epidemic situation is basically under control, people have subjective mentality and not to participate in vaccination; propaganda and mobilization work in some localities is still negligent and not drastic.
At the meeting, the health sector affirmed the need for basic and booster vaccination against COVID-19. Representatives of agencies, units and localities focused on discussing solutions to speed up the vaccination schedule in order to create positive changes and achieve the goals and plans in the coming time.
The PPC Standing Vice Chairman has suggested that leaders of departments, sectors and localities uphold the sense of responsibility, focus on drastic direction, find effective solutions to bring the COVID-19 vaccination rate of the province equal to or higher than the national average; especially, avoid a backlog of vaccines or expired vaccines, causing a waste of the State budget. Simultaneously, further promoting communication and improving the effectiveness of propaganda and mobilization of vaccination against COVID-19 in the whole people, especially focusing on those from 5 to under 18 years old.
Source: Phu Yen Newspaper
Translated by KHUONG THAO