Ms Tam giving all her love for poor students
Updated : 1/25/2023 7:40:00 AM (GMT+0700)
"For me, simply helping them with something, I will do. One more shirt is one more time they are warm, one more blanket is one more full sleep, one kilogram of rice is one more full day."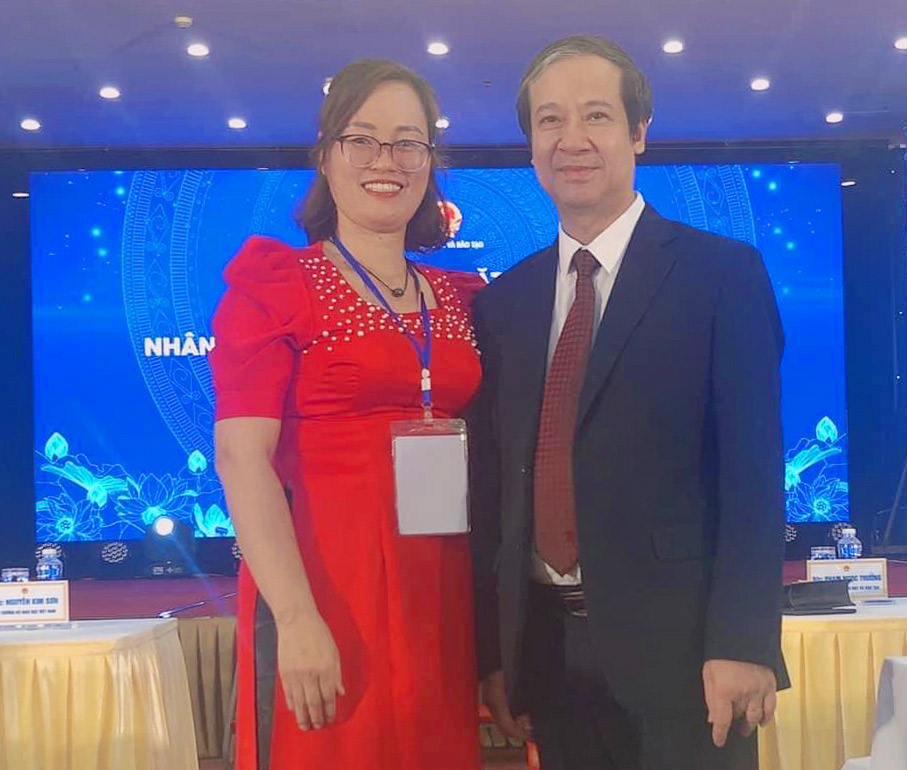 Ms Pham Thi Tam taking a souvenir photo with Minister of Education and Training Nguyen Kim Son at the honoring ceremony of typical teachers
Those are the rustic sharings of highland teacher Pham Thi Tam (Phu Mo Kindergarten, Dong Xuan district) with Prime Minister Pham Minh Chinh in a meeting on the occasion of honoring outstanding and typical teachers nationwide in 2022, held in Hanoi.
Love at the school site in hillside
On a new spring day, it was raining, the road from La Hai town to the school site in Phu Dong village (Phu Mo commune, Dong Xuan district) was slippery and difficult for moving. It took us nearly 90 minutes to get there, because we had to go through many steep, eroded, muddy roads and wade through 3 streams. The preschool that Ms. Tam teaches is located on a hill - this is also her temporary accommodation.
The 12m2 room contains the school's teaching tools and is also Miss Tam's accommodation during her journey of sowing words in this highland. In order to complete her love of the profession, during the past 5 years, Ms Tam has crossed the distance we have traveled to get to the teaching place. The road is difficult, she only goes home from 1 time to 2 times a month. Her companion is a motorbike and bags of sundries. Sometimes it's bags of old furniture, stacks of old books, blankets, etc… from acquaintances, sponsors to bring back to her poor students. "In the days it was cold to the bone, but they only had shorts and a flimsy shirt to go to class. I love my students but I can't afford to help them, so I try to mobilize acquaintances, friends, sponsors. Everyone is happy for whatever they give, the new things are more fun, the old ones are still well used, I wash them clean, it also helps to keep the children warmer," said the teacher, born in 1981, with emotion.
Phu Dong village school has 15 students, all of them are poor children, ethnic minority people's. In order for children to know how to speak Vietnamese, all learning tools have been attached letters by Ms. Tam and written Vietnamese for them to learn and get acquainted with. She often teaches children songs, dances, reading letters, etc. to know Vietnamese and improve communication skills in Vietnamese. "On sad nights alone, I sit down to make learning tools, clean the classroom so that the next day I can pick up students to come to class, so that every day they come to school is a happy day", Ms Tam shared.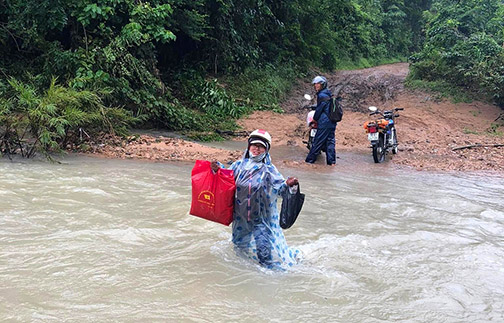 Ms Pham Thi Tam crossing a long distance, wading streams to the highlands of Phu Mo to teach
Harvesting sweet fruit
Besides teaching, Ms Tam also does volunteer work with love for students. Seeing the scene of many needy families, crumbling houses in the face of wind and rain, old people eating rice with salt, bareheaded and barefoot children, etc., Ms Tam constantly thought and wondered. After the teaching sessions, she campaigned and connected with benefactors. During 5 years of teaching in Phu Dong village, Ms. Tam has mobilized more than 300 bags of clothes, utensils, books and shoes; 50 bicycles for poor students; scholarships for students from kindergarten to secondary school; opened 2 self-managed libraries at Phu Mo Primary School and Dinh Nup Boarding School with more than 1,000 books; donated cash and necessities to poor households with a total amount of more than 1 billion VND.
On the occasion of the 40th anniversary of Vietnamese Teachers' Day, Ms. Tam was one of four teachers representing 400 typical national teachers speaking at a meeting with Prime Minister Pham Minh Chinh. This is an honor not only for a teacher in a remote preschool, but also the pride of Phu Yen Education. "Over 17 years of working with the profession, I bring all my enthusiasm, professional fire and love for children, as a way to pay my respects to the land that generously extended the arms to support me. I was even more moved when honored by the Ministry of Education and Training, and recognized by the Prime Minister for my small contribution in the cause of human cultivation", Ms Tam confided.
Head of Education and Training Division of Dong Xuan district, Mr Pham Trung Thanh commented: "Ms. Pham Thi Tam is a very good professional teacher. In 2018, from Phong Lan Kindergarten, Lai Hai town, she was enhanced in terms of kindergarten in Phu Dong village for a period of 1 year. At the end of the reinforcement period, she voluntarily wrote an application to stay. Her deeds are very appreciated, all for the sake of dear students."
Source: Phu Yen Newspaper
Translated by TRINH THUY