Overseas Vietnamese across continents celebrate traditional New Year
Updated : 1/23/2023 10:01:56 AM (GMT+0700)
Overseas Vietnamese people in Japan, Israel, Slovakia, and Czech Republic have celebrated the Lunar New Year (Tet) festival in a warm atmosphere in line with Vietnamese traditions.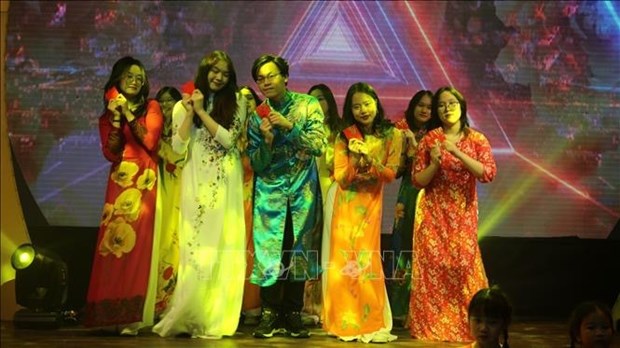 Overseas Vietnamese sing at the Tet celebration held by Vietnamese Embassy and Vietnamese Association in the Czech Republic. Photo: VNA
On January 21 (the last day of the Year of the Tiger) and January 22 (the first day of the Year of Cat in Vietnam), authorities in Japan's Kobe city, Vietnamese businesses, and the Vietnamese Association in Kobe held a Tet celebration for the local 8,000-strong Vietnamese community.
The event, sponsored by the Consulate General of Vietnam in Osaka, is one of the association's activities towards the 50th anniversary of the establishment of diplomatic relations between Vietnam and Japan.
On the occasion, representatives from Kobe administration pledged to support the operation of Japanese-Vietnamese friendship associations and the Vietnamese association in the city.
On January 21, the Vietnamese Embassy in Israel coordinated with the Vietnamese community in the country to organise a Tet celebration with the participation of about 300 guests including overseas Vietnamese, the Embassy staff, and foreign friends in Israel.
The programme recreated an old-time Tet space in Vietnam consisting of a spring food stall, wrapping and cooking chung cake, displaying a tray of five fruits, decorating peach bloomsome, kumquats, preparing a Tet meal, and offering lucky money.
The celebration, though held in a place far away from Vietnam, was still able to bring the overseas Vietnamese a joyful and cozy spring atmosphere.
The same day, the Vietnamese Embassy in Slovakia cooperated with the Vietnamese Association in the country's Bratislava capital and Kosice city to organised a meeting marking the Vietnamese traditional Tet festival.
Speaking at the event, Vietnamese Ambassador to Slovakia Nguyen Tuan highly appreciated the role of the Vietnamese Association as a bridge connecting the overseas Vietnamese community with the homeland.
In 2022, the Vietnamese community in Slovakia contributed to the Sovereign Canoe fund for the Truong Sa island district and the DK1 rig with a total amount of more than 8,400 euros (over 9,100 USD).
In the Czech Republic, the Vietnamese Embassy coordinated with the Vietnamese Association in the country to organise programme to celebrate the Lunar New Year 2023 on January 20 after nearly three years of disruption due to the COVID-19 pandemic.
Source: VNA