Vietnamese celebrate Tet overseas
Updated : 1/25/2023 9:23:20 AM (GMT+0700)
The Vietnamese community in the Republic of Korea (RoK), Belgium, and Germany has been enabled to mark the biggest and long annual traditional event of their homeland – the Lunar New Year festival (Tet) – via associated visits and gatherings over the past few days.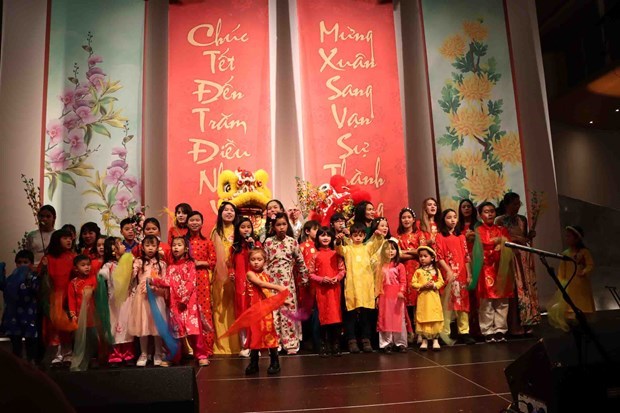 At the celebration in Belgium. Photo: VNA
In the RoK, a delegation of the Vietnamese Embassy visited two families of Vietnamese women married to Korean men on the festive occasion. They are Do Thi Thanh Nga in Gyeonggi province, who has been part of her Korean family for 17 years; and Huynh Thi Thai, 74, in Seoul, one of the first Vietnamese women marrying Korean men since 1973.
Chargé d'affaires Nguyen Viet Anh affirmed that the happiness and achievements that the two families have obtained is a vivid proof of the special "marriage relationship" between the nations.
He expressed his wish that such multicultural families will continue to make more contributions to the common development of the Vietnam-RoK relationship, which has freshly been upgraded to a comprehensive strategic partnership.
In Belgium, the General Association of Vietnamese in Belgium (GAVB) held a Tet art programme by a troupe from Vietnam's Ho Chi Minh City.
Huynh Cong My, chairman of the GAVB, stated the organisation wants to bring the traditional Tet atmosphere to Vietnamese living abroad, helping them remember their homeland and strengthen the ties within the expatriate community.
Vietnamese Ambassador to Belgium and Luxembourg Nguyen Van Thao stressed the Party and State always consider the Vietnamese community abroad an integral part and important resource of Vietnam.
Having just over 13,000 people, the Vietnamese expatriate community in Belgium has integrated well in the host nation, complied with the law, and were highly evaluated by the local authorities.
In Germany, the Vietnamese Association in Leipzig organised a celebration ceremony to welcome the year of the cat, gathering Vietnamese living and studying in the city – one of the few German localities establishing twin relations with Vietnamese localities.
Addressing the event, head of the association Bui Quang Huy said with a population of nearly 4,000, the Vietnamese community in Leipzig is assessed as the strongest foreign community there, making positive contributions. He also expressed his wish for more support from the local authorities for the group's solidarity, integration, and growth.
Echoing the view, Minister-Counsellor Chu Tuan Duc at the Vietnamese Embassy said the community has also contributed significantly to the Vietnam-Germany ties.
The Leipzig authorities took the occasion to thank the Vietnamese expatriates for their contributions to the city.
Similar events of traditional Vietnamese dishes and musical performances were also held in other parts of Germany like Cottbus, Rostock, and Dessau.
Source: VNA