Resolution aims for sustainable development of labour market
Updated : 1/28/2023 1:44:48 PM (GMT+0700)
The Government has issued a resolution on boosting the flexible, effective, sustainable and integrated development of the labour market, aiming to speed up socio-economic recovery.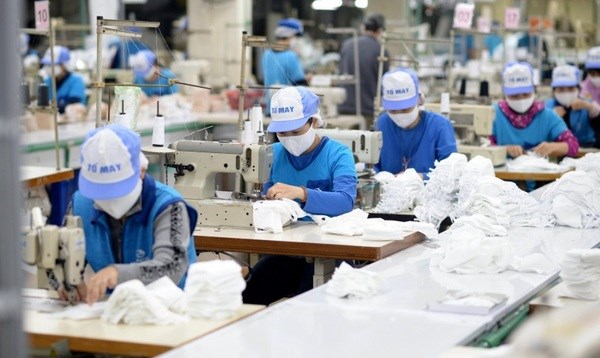 Under the resolution, the number of skilled workers in the country is expected to reach 30% of the workforce by the end of 2025. Photo: VNA
The resolution stressed the importance of improving workforce productivity and developing a fair and sustainable labour market covering all regions across the country, not just in major economic centres.
The COVID-19 pandemic has revealed shortcomings and weaknesses in the labour market, with nearly two million workers, mainly those without skills and training, forced to leave the market.
In addition, vocational training has not been able to meet the demand for skilled workers, especially for high-tech industries, in socio-economic development, economic restructuring, integration into the global economy, and foreign investment attraction.
In the coming decades, Vietnam must heavily invest in its workforce, said the resolution, with a key focus on educating workers, improving working conditions, and supporting vulnerable groups to join the workforce.
Meanwhile, measures must be taken to reform the labour market with an eye on sustainable development, efficiency in managing the country's human resources and greater connectivity with the regional and international labour markets.
Under the resolution, the number of skilled workers in the country is expected to reach 30% of the workforce by the end of 2025, while labour productivity is hoped to increase 6.5% annually and the unemployment rate is hoped to be kept under 3% nationwide.
In 2025, the Government hopes for 45% of eligible labourers joining social insurance, and 35% paying unemployment insurance.
Policies will be issued to limit unemployment and increase labour quality, restore and stabilise the labour market, promote sustainable job creation and effective use of the workforce.
The resolution stressed the importance of balancing the labour market and other economic sectors to maintain economic stability, help connect employers and workers, and anticipate the demand of foreign companies in the coming years.
In addition, industries that create and sustain jobs must be encouraged and supported as they are key in improving the country's productivity and labour skills, with local government leaders actively developing and maintaining the local labour market's supply and demand.
Local leaders are required to produce regular reports to the central Government and propose solutions and policies to improve the quality of the labour force and address issues.
The Ministry of Labour, Invalid and Social Affairs is charged with building a national labour information database to serve as a foundation for policymaking, demand forecast and support businesses in finding the right workers for the right jobs.
Source: VNA