Youth Month inflames volunteer fire
Updated : 3/25/2023 9:11:07 AM (GMT+0700)
During over two decades of formation and development, Youth Month has made a significant impact on youth volunteering, attracting tens of millions of youth and a large number of people from various sections to participate and respond.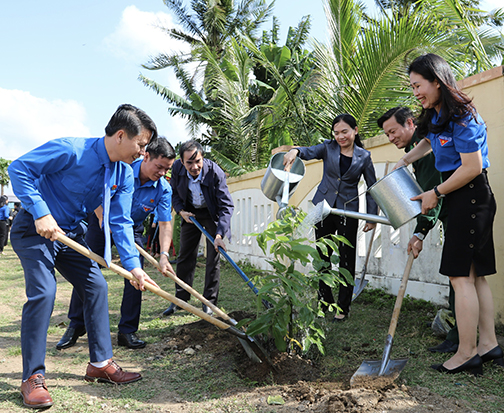 Comrade Dinh Thi Thu Thanh, Standing Committee Member, Head of the Provincial Party Mass Mobilization Committee (right) and leaders of the Party Committee of Provincial Agencies - Enterprises Bloc, Provincial Youth Union planting trees
This is a great political event to instill pride in the glorious tradition of the Ho Chi Minh Communist Youth Union by fanning the flames of passion, enthusiasm, impulse, volunteerism, and creativity in difficult and new works, as well as participation in building and protecting the Fatherland in each cadre, union member, and youth.
Volunteering for new things, difficult things
In Youth Month 2023, the Youth Light Up Country Road project in Hamlet 1, My Phu 2 Village, An Hiep Commune, Tuy An District was inaugurated and put to use by young groups and communities. The Youth Union of the Non-Business Unit, Economic Police Department, Military Commercial Joint Stock Bank of Phu Yen Branch, in conjunction with An Hiep Commune, completed this project with 47 electric lighting on a roughly 2km route. A great number of locals were there on the inauguration day to share their delight and enthusiasm when the road was illuminated.
Mr Nguyen Van Luan, Party Secretary, Village Chief of My Phu 2, said: "In former time, there was no electricity road, the sky was dark, people's movement was difficult, especially while going through desolate roads and fields. The Youth Lighting up country roads project not only helps to travel conveniently but also contributes to guarantee social order and and traffic safety at night. This is an extremely meaningful task, helping the locality to develop socio-eco, have better circumstances to satisfy the criteria of new and advanced rural communes in the future".
Lighting up rural roads, security lights, and alley illumination are just a few of the numerous examples that clearly demonstrate the involvement of young people during Youth Month. With the spirit of "where need youth, ready youth", the youth of the province have aggressively undertaken new things, challenges in executing unit responsibilities, socio-eco development in the locality. According to Mr.Luong Minh Tung, Provincial Youth Union Secretary, in the Youth Month of 2023, more than 30 youth projects were implemented at all levels with a total value of more than 2 billion VND. "The heady days of Youth Month 2023 have created a new spring, an essential momentum for a year, and a relevant period for youth work and youth movement" Mr. Tung said.
Creating a beautiful image of the new generation of youth
March has been designated as Youth Month since 2004. Youth Month has grown familiar to youth and the Vietnamese people since then. Throughout nearly 20 years of great accomplishments, the volunteer spirit in Youth Month has grown in thought, consciousness, and has become one of the positive attributes of Youth Union members.
With Phu Yen youth, Youth Month has become a massive political activity related with the anniversary of the creation of the Ho Chi Minh Communist Youth Union (March 26). For many years, the Provincial Youth Union at all levels has concentrated on carrying out critical responsibilities during Youth Month in line with local and unit conditions. Along with promoting propaganda and education activities on the glorious traditions of Vietnamese youth and the Ho Chi Minh Communist Youth Union, the Provincial Youth Union at all levels has organized activities to promote the spirit of aggression and creative volunteering of young people in building and protecting the Fatherland; organized activities to accompany young people in starting a business, establishing a business, and integrating internationally; and taken care of and supported young people.
Mr Nguyen Le Duy, the Agency Secretary - Enterprise of the province's Youth Union, stated that Youth Month strives to instill pride in the rich tradition of the Ho Chi Minh Communist Youth Union in each officer and youth unit. Along with that, creating a vibrant emulation movement to commemorate the founding of Ho Chi Minh Communist Youth Union, implementing resolutions of congresses at all levels. Therefore, in order for Youth Month to be widely deployed to the grassroots, highly actionable, ensuring practicality, efficiency, and adhering to the focus of youth work and movements, the bloc's Youth Union directed affiliated organizations to develop implementation plans, organize a series of weekly activities, with a focus on spreading positive information and beautiful images of Youth Union members.
Source: Phu Yen Newspaper
Translated by HAI LOAN